This is an archival story that predates current editorial management.
This archival content was written, edited, and published prior to LAist's acquisition by its current owner, Southern California Public Radio ("SCPR"). Content, such as language choice and subject matter, in archival articles therefore may not align with SCPR's current editorial standards. To learn more about those standards and why we make this distinction, please click here.
Your Guide To Eating Out In L.A. During The Holidays
Support your source for local news!
The local news you read here every day is crafted for you, but right now, we need your help to keep it going. In these uncertain times, your support is even more important. Today, put a dollar value on the trustworthy reporting you rely on all year long. We can't hold those in power accountable and uplift voices from the community without your partnership. Thank you.
Ah the holidays... that time of the year where we're allowed to stuff our faces without feeling too guilty and our diets are thrown out the window. If you're too lazy to cook, not going home for the holidays, or just don't even celebrate Christmas, we've got you covered. Here's our list of restaurants open during the holidays in case you're looking to feed your hunger with a warm and comforting meal.

Roasted chestnuts with bacon and chili at The Pikey (Photo courtesy of Eric Shani/The Pikey)
The Pikey
Want to share a pint of beer and grub on some British fare with your buddies? The Pikey is celebrating holiday cheer with its decked-out Christmas decorations at the gastropub. Their holiday cocktails are available all winter and include warm and toasty drinks like hot spiced cider. The Pikey will also have special menus for Christmas Eve and Day with comfort dishes such as goose with stuffed onions and minced pie.
The Pikey is located at 7617 W Sunset Blvd. in West Hollywood, 323-850-5400
The Oaks Gourmet
If you're feeling lazy to cook, but want all of those traditional Christmas dishes at home, pre-order from The Oaks Gourmet. They're offering individual Christmas Eve dinners for $19.95. You get some brown sugar and maple-glazed ham, spiced yams, mashed potatoes and almond-brown butter green beans with that meal. Pre-orders must be placed by 8 p.m. on Dec. 23, either on their website or by phone. Their full menu is also available if you want to go in and eat as well. They'll be open on Dec. 24 and 25 during their regular hours. Pick up some wine and beer while you're there as they'll be stocked in preparation for this time of year.
The Oaks Gourmet is located at 1915 N Bronson Ave. in Hollywood Hills, (323) 871-8894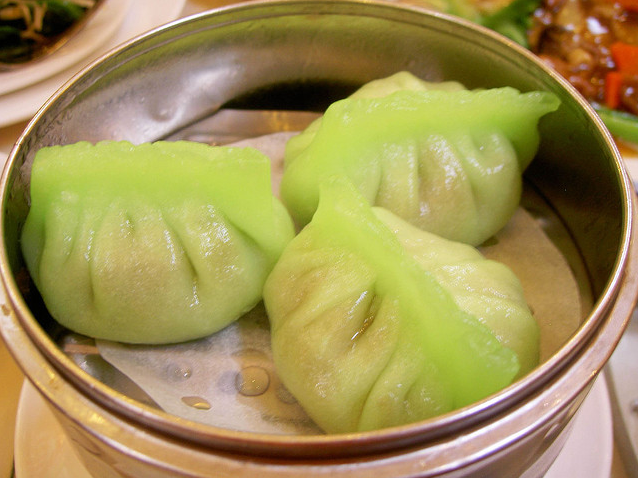 (Photo by Abbey via the LAist Featured Photos pool on Flickr)
Sea Harbour Seafood Restaurant
You'll always know you're at Sea Harbour when you see the big rooster statue in the parking lot. This Chinese joint will be open both on Christmas Eve and Day for your dim sum cravings, whether it be shu-mai or glazed BBQ pork buns. On the plus side, you don't have to wait around for the dim sum carts to pass by you because you can order items off of a checklist with photos. Dim sum gets served between 10:30 a.m. to 2:30 p.m. Try to beat the rush and get in line early!
Sea Harbour Seafood Restaurant is located at 3939 Rosemead Blvd. in Rosemead, (626) 288-3939
Curry House
If you need to satisfy your Japanese curry hunger pangs, Curry House is the place to be. Get some chicken katsu curry over rice and feel the warmth of that comfort food take over. The joint is more like a diner, so go casual. There's free parking with validation available in the underground lot. They're open on both Christmas Eve and Day, but they close early at 8 p.m. on Dec. 25.
Curry House is located at 2130 S Sawtelle Blvd., Ste. 200 in West L.A., (310) 479-8477

(Photo by R. E. via the LAist Featured Photos pool on Flickr)
Hakata Ramen Shin-Sen Gumi
Nothing is more comforting than a warm bowl of ramen with all the fixins. Shin-Sen Gumi's atmosphere is always lively, the service is impeccable, and best of all—it's open on Christmas Eve and Christmas Day. Customize your own bowls here by picking how soft or hard you want your noodles, what special toppings you'd like to add (extra pork belly and poached eggs!), and even get extra noodles for just 95 cents. It's basically The Counter for ramen.
Hakata Ramen Shin-Sen Gumi is located at 132 S Central Ave. in Little Tokyo
Fred 62
Ahh Fred 62, you never fail us in staying open 24 hours a day, 365 days of the year. The retro diner is a staple in Los Feliz and whips up breakfast items to salads and chicken pot pies, with lots of vegetarian options. Plus get some outdoor seating if it's sunny during the holidays. The perks of being an Angeleno!
Fred 62 is located at 1850 N Vermont Ave. in Los Feliz, (323) 667-0062

Ban chan served at Korean BBQ (Photo by Foodwoolf via the LAist Featured Photos pool on Flickr)
Genwa Korean BBQ
All-you-can-eat? Yes, please. This hip Korean BBQ gem of a restaurant is among the best in town. You get kalbi, pork, and even seafood options. And you can't go wrong with a nearly 25 plate assortment of ban chan! If you're not feeling like eating a ton of meat, you can always opt for the bibimbap or a salad and pair your food with some soju. Genwa Korean BBQ will be open on both Dec. 24 and 25. Eat, drink, and be merry!
Genwa Korean BBQ is located at 5115 Wilshire Blvd. in Hancock Park, (323) 549-0760
Palms Thai
Two words: Thai Elvis. Not only is the Thai food tasty and affordable at this restaurant, but there's a Thai Elvis impersonator who performs there too. Get some pad see ew or green curry in this fun environment. If you can't find street parking, hit up the valet for $2 parking. This joint is open from 11 a.m. to midnight on Christmas Eve and Day.
Palm's Thai is located at 5900 Hollywood Blvd. in Hollywood, (323) 462-5073
Greenblatt's Delicatessen & Fine Wine Shop
Greenblatt's is one of those hidden gems in L.A. It may look like a wine shop when you walk in (and with a great selection of wines, I might add), but there's a whole dining area upstairs that feels like an old school dining establishment. They don't mess around with their pastrami sandwiches—it's one of the best in the city—and you can even order a Thanksgiving-type of meal as well. Pro-tip: there's a parking lot in the back area, so you don't have to fight with other folks on Sunset Blvd. Greenblatt's is open from 9 a.m. to 2 p.m. 365 days out of the year.
Greenblatt's is located at 8017 Sunset Blvd. in West Hollywood, (323) 656-0606
Cruise off the highway and hit locally-known spots for some tasty bites.

Los Angeles-based restaurant owners rejoice as a new ordinance makes its way to the city council.

The new season of LAist Studios' WILD podcast is a fictional rom-com set in Southeast L.A. Diners play a big role in fostering conversation between the shows' two hosts this season. Here are host Erick Galindo's must-visit L.A. diners — whether you like breakfast or not.

The new season of LAist Studios' WILD podcast is a fictional rom-com set in Southeast L.A. Donuts play a big role in episode two of the show. Here are some of our favorite, wildly creative, and iconic donut shops in Los Angeles.

Cheap Fast Eats visits one of L.A.'s most distinctive neighborhoods for some nighttime bites.

How to get the best eggs in town without leaving your yard.