This is an archival story that predates current editorial management.
This archival content was written, edited, and published prior to LAist's acquisition by its current owner, Southern California Public Radio ("SCPR"). Content, such as language choice and subject matter, in archival articles therefore may not align with SCPR's current editorial standards. To learn more about those standards and why we make this distinction, please click here.
Fitness for the Easily Bored: Swordfighting
Before you read this story...
Dear reader, we're asking for your help to keep local reporting available for all. Your financial support keeps stories like this one free to read, instead of hidden behind paywalls. We believe when reliable local reporting is widely available, the entire community benefits. Thank you for investing in your neighborhood.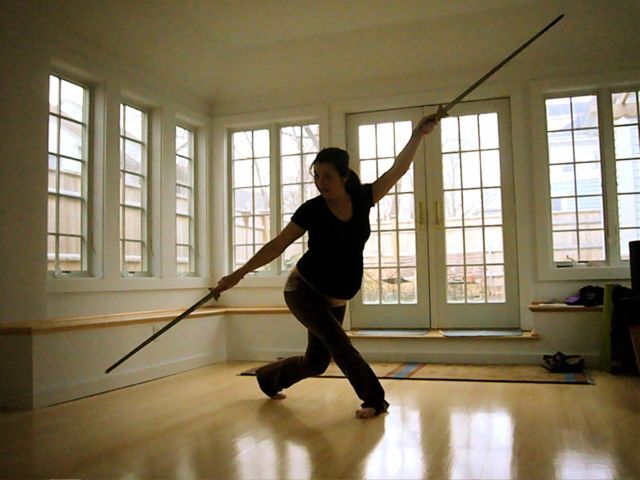 I've always been a worker-outer. But lately, as I've spent more and more time on the cardio machines at 24 Hour Fitness, I can't shake feeling that I'm just a hamster on a wheel in a vicious human experiment. To combat my paranoia and possibly find a mentally healthier hobby, I've decided to scope out what else LA has to offer in a weekly series, "Fitness for the Easily Bored." So far, I've explored Hoopdancing and Dodgeball. This week, I'm going medieval with...
The Academy of Arms--Swordfighting
The Premise
Back in the late 1500's and early 1600's, swordfighting (as many of us familiar with so-called "period pieces" may have gathered) was something people did. They did it to defend themselves and their damsels, they did it to defend their country, they did it while they rode horses. Many considered it an art form.
Fast forward 400-ish years. Christian Vivo, 20-year veteran of fencing, rediscovers a book written in the days of swordfighting entitled "Brief Instructions on my Paradoxes of Defense," which details proper fighting technique. Along with a small international community of fellow fighting fanatics, Vivo reads it, learns the technique, and translates it to be palatable for the modern-day consumer.
"It took a few years to get down," he says. But it's well worth it. "It lets us touch some of our history," he adds.
Ten years later, in a small equestrian community known as Burbank, Vivo opens the Academy of Arms to teach swordfighting to the SoCal masses.
The Class
I'll admit it--I was skeptical about the class at first. To begin with, no matter how hard I tried, I could not imagine it taking place in a regular dance studio (which it is). I kept picturing a castle. And, when I think about the type of person who maintains the delusion that they might actually use a sword on someone one day...I immediately go to your classic Ren-Fair attendee. The wearer, possibly, of lots of sterling silver jewelry.
As such, my first surprise when I arrived at the Academy was that in the group of about seven students, I was one of three women. Intriguing...
A solidly built 46-year-old, Vivo was explaining to the class that we would first learn how to move our feet, then our arms and weapons would follow.
So far, nothing about his demeanor suggested that he may have a crushed velvet cape and tights tucked away in his closet (surprise #2)
We started by learning some gliding techniques. These would keep us from bobbing and thus reduce our risk of being decapitated by our aggressor's sword. Glide towards the mirror, glide away from the mirror. Wax on, wax off.
Soon, we broke off into two lines facing one another and paired up to practice our moves in a racy pas de deux. We would all get the chance to lead and to follow, which -- sidebar -- was exciting for me since I suck at following. Even though I rarely dance with a partner, when I do, I'm always a little embarrassed by my inability to be at all ladylike.
Fortunately I led first. And as I led, and backed my opponents up against the wall one after the other, I suddenly began to feel like a very sexy beast. I felt like Catherine Zeta-Jones in "The Mask of Zorro," cornering Antonio Banderas with her sultry and discombobulating moves and her mad swordfighting skillz (I actually never saw "The Mask of Zorro," but that's how I imagine it). Perhaps this feeling is whence some people's passion for the art springs...?
Before the end of the class, we did pick up weapons--long wood beams, with halved leather balls secured to the end.
And this was when things got a little scary for the first time. My partner, though adorable, was very uncomfortable with the large, unwieldy beam with which she had been instructed to tap me lightly in the jugular. More than once, I had to duck and weave to avoid being outright knocked unconscious. The class is small enough that Christian was able to give us one-on-one instruction, though, so no harm was done. And frankly, what would a swordfighting class be without a little danger?
The Verdict
Christian manages to trounce stereotypes; his sincere respect and love for the art of swordfighting is contagious and definitely made me think about it more openly. This class seems like more of a hobby than a workout, but if fighting is your thing, you may have a new home here.
Overall Workout: 4 on a scale of 1-10
Hobby-Developing Potential: Moderate to high, especially if you discover an inner desire to practice Western martial arts
Next-Day Pain: Minimal, although my thighs did hurt from the gliding
Cost: $35.00 per month
The Academy of Arms
1719 W. Verdugo Ave
Burbank, CA 91506
(818) 276-1936
Photo by dizznbonn via Flickr