Father Dollar Bill Hands Out $15,000 in Downtown
Time is running out to keep LAist funded.
It's the FINAL DAY of our June Member Drive and we are behind on our goal to keep local news strong for the coming months. Your support today keeps our reporters ready to meet the needs of our city. Plus, your gift's impact will be twice as strong because it will be matched dollar for dollar!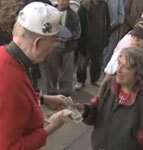 Reverend Maurice Chase, best known as Father Dollar Bill, often can be seen throughout the year handing out dollar bills to those in need. And Christmas and Thanksgiving are no different, except a bigger wad of cash. Today he handed out $15,000, mostly in dollar bills in amounts up to $20. The first ten people he saw in wheelchairs received $100 bills. Chase has been criticized for giving money to people who might spend it on drugs or booze, but he says that's not the point. The point is to show them that they are not forgotten, not invisible. "The annual tradition is supported by the widows of Bob Hope and Frank Sinatra, along with comedian Bob Newhart and philanthropist Eli Broad," reported ABC7 who sent cameras to scene in the streets of Downtown LA.