Wolfgang Tillmans Book Signing Today at Taschen
LAist relies on your reader support, not paywalls.
Freely accessible local news is vital. Please power our reporters and help keep us independent with a donation today.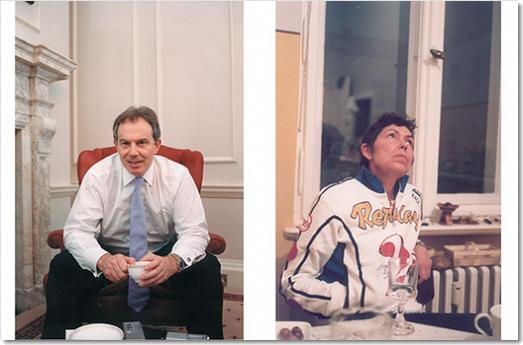 Wolfgang Tillmans isn't your everyday photographer. His work isn't the type thats overly-altered, or posed, or even all that beautiful all the time.
Take his photo of Tony Blair, for example: you wouldn't be surprised if Blair asked that snap to be excluded from the new collection "Truth Study Center", since it appears as if the Prime Minister is passing wind or was just accused of doing something disgraceful. His teeth look unclean, his pose is unnatural, and his hair looks like he's never had an expensive hair cut in his life. Yet somehow we get the feeling that Blair invited Tillmans to take the portrait.
In a way it's a celebration of realism in all forms. Nudes are presented in uncomfortable angles, trash and crumbs are perfectly in focus, colors are muted, and things that should be sexy are far from erotic -- intentionally, it seems. However, the one thing that refuses to be anything but beautiful is Nature. Even when it's telling a sad tale, like the cover image of Venus: nothing but a black spot -- a zit if you will -- in the presence of the unblinking sun.
LAist says right on, and celebrates the German's book signing today at the Taschen store, from 5p-6:30p.
Taschen is at 354 N. Beverly Dr., Beverly Hills, (310) 274-4300.