This is an archival story that predates current editorial management.
This archival content was written, edited, and published prior to LAist's acquisition by its current owner, Southern California Public Radio ("SCPR"). Content, such as language choice and subject matter, in archival articles therefore may not align with SCPR's current editorial standards. To learn more about those standards and why we make this distinction, please click here.
TV Junkie: Xmas Weekend Edition
Support your source for local news!
The local news you read here every day is crafted for you, but right now, we need your help to keep it going. In these uncertain times, your support is even more important. Today, put a dollar value on the trustworthy reporting you rely on all year long. We can't hold those in power accountable and uplift voices from the community without your partnership. Thank you.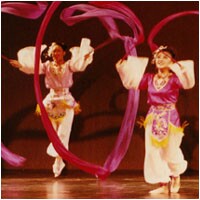 Hope for DVDs in your stockings and lots of trips to your cinema center - this weekend and next week will be reruns of just about everything including late night programming. I guess the idea is that you're supposed to be spending time with people you love or like or something.
Today - Saturday
College Basketball is scattered all over the tube from morning 'til night.
"A Christmas Carol" (TCM, 11:00 a.m.) This is the kind of creepy 1938 version but pretty much all the older versions are better than the newer ones with the exception of "Scrooged"
Tomorrow - Sunday - Christmas Eve
Patriots @ Jaguars (CBS, 10:00 a.m.)
Saints @ Giants (Fox, 10:00 a.m.)
"Ben Hur" (TCM, 8:00 a.m.) Charlton Heston at his best in the 1959 3 1/2 hour epic
Chargers @ Seahawks (CBS, 1:00 p.m.)
"The 47th Annual Los Angeles County Holiday Celebration" (KCET, 3:00 p.m.) Six hours of music and dance performance broadcast live from the Dorothy Chandler Pavilion of the Music Center. Attendance and parking is free so you can even consider going for free. For more information go to Los Angeles County Arts Commission Holiday Celebration website.
"Spanking the Monkey" (IFC, 7:45 p.m.) Kinky Mommy stuff, always good for Christmas Eve
pic from the Los Angeles County Holiday Celebration website
Donald Trump was a fading TV presence when the WGA strike put a dent in network schedules.

Pickets are being held outside at movie and TV studios across the city

For some critics, this feels less like a momentous departure and more like a footnote.

Disneyland's famous "Fantasmic!" show came to a sudden end when its 45-foot animatronic dragon — Maleficent — burst into flames.

Leads Ali Wong and Steven Yeun issue a joint statement along with show creator Lee Sung Jin.

Every two years, Desert X presents site-specific outdoor installations throughout the Coachella Valley. Two Los Angeles artists have new work on display.