TV Junkie: Xmas Weekend Edition
Stories like these are only possible with your help!
You have the power to keep local news strong for the coming months. Your financial support today keeps our reporters ready to meet the needs of our city. Thank you for investing in your community.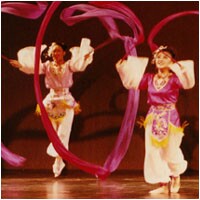 Hope for DVDs in your stockings and lots of trips to your cinema center - this weekend and next week will be reruns of just about everything including late night programming. I guess the idea is that you're supposed to be spending time with people you love or like or something.
Today - Saturday
College Basketball is scattered all over the tube from morning 'til night.
"A Christmas Carol" (TCM, 11:00 a.m.) This is the kind of creepy 1938 version but pretty much all the older versions are better than the newer ones with the exception of "Scrooged"
Tomorrow - Sunday - Christmas Eve
Patriots @ Jaguars (CBS, 10:00 a.m.)
Saints @ Giants (Fox, 10:00 a.m.)
"Ben Hur" (TCM, 8:00 a.m.) Charlton Heston at his best in the 1959 3 1/2 hour epic
Chargers @ Seahawks (CBS, 1:00 p.m.)
"The 47th Annual Los Angeles County Holiday Celebration" (KCET, 3:00 p.m.) Six hours of music and dance performance broadcast live from the Dorothy Chandler Pavilion of the Music Center. Attendance and parking is free so you can even consider going for free. For more information go to Los Angeles County Arts Commission Holiday Celebration website.
"Spanking the Monkey" (IFC, 7:45 p.m.) Kinky Mommy stuff, always good for Christmas Eve
pic from the Los Angeles County Holiday Celebration website