This is an archival story that predates current editorial management.
This archival content was written, edited, and published prior to LAist's acquisition by its current owner, Southern California Public Radio ("SCPR"). Content, such as language choice and subject matter, in archival articles therefore may not align with SCPR's current editorial standards. To learn more about those standards and why we make this distinction, please click here.
TV Junkie: Weekend Edition - Showtime Now Owns Sundays
Stories like these are only possible with your help!
You have the power to keep local news strong for the coming months. Your financial support today keeps our reporters ready to meet the needs of our city. Thank you for investing in your community.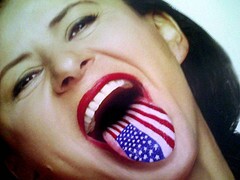 In short: tonight brings us the conclusion of HBO's In Treatment, tomorrow Torchwood on the BBCA at 9pm provides us an opportunity to geek out, and on Sunday a lot of newly patriotic folks await part 4 of John Adams on HBO at 9pm.
The big story this weekend is Showtime's Sunday lineup. Season 2 of The Tudors starts up and while it might not lure away John Adams fans immediately, it should be noted that John Adams will be over with in a couple more weeks and with how these premium channels repeatedly broadcast their content it should be easy for viewers to catch up. No doubt that The Tudors will also pick up viewers by fans of the recent theatrical release, The Other Boleyn Girl, but hopefully everyone recognizes the historical liberties taken by the producers of these entertainments. I'll be damned if Jonathan Rhys Meyers isn't the most ripped and waxed Henry the VIII ever portrayed on TV, film, or in heavy oil paints - and lo and behold he gets a hand job from Anne Boleyn. Still, the accuracy of the period design and costumes is compelling but since it was mostly shot on indoor sets or in gardens, this series feels a lot more constrained and artificial compared to HBO's best effort at historical drama, Rome.
Following The Tudors at 10:00pm is the premiere of Tracey Ullman's State of the Union. A friend of mine once said, "If you don't think Tracey Ullman is brilliant, you can go fuck yourself" and I'm inclined to adopt that attitude. Ullman is a shapeshifter "taking on" the whole US of A in her new series, and no one is safe. By the first episode, she establishes a stable of characters including a realistic midwestern suburban homemaker and a (black) urban homecare provider as well as an outrageous Bollywood pharmacist and a furloughed Army Mom who only has enough time home from Iraq to take orange wedges to her daughter's soccer game before heading back to the military transport plane.
There is a definite assessment of the state of America in this series by Ullman. Even though she brings humor to each of her vignettes, in almost all of them there's an understanding established that the way things are going is kind of fucked up - whether it's a bus full of senior citizens coming back from a drug run to Canada getting raided, or Ullman's parody of drunken rabid MILF Dina Lohan (Linday's mother), there's enough reality to give one pause. Interestingly, other than a Nancy Grace-like investigative reporter, Ullman avoids any overt exploitation of right wing demagogues, at least, in the 1/2 dozen or so episodes that I saw. The left, however, is skewered in every episode with her portrayals, all hilarious, of Nancy Pelosi, Laurie David, and Queen Bee of the blogosphere, Ariana Huffington, who is either doing pilates or blogging herself to sleep, always alone, signing off with "Blogs & Kisses".
These two shows represent a huge investment on the part of Showtime and to think that they are not attempting to take Sunday night away from HBO is naive. While both of these shows are very well done, Tracey Ullman's State of the Union is the true groundbreaker and will be the TV Junkie Pick O' the Weekend for at least the next two months.