This is an archival story that predates current editorial management.
This archival content was written, edited, and published prior to LAist's acquisition by its current owner, Southern California Public Radio ("SCPR"). Content, such as language choice and subject matter, in archival articles therefore may not align with SCPR's current editorial standards. To learn more about those standards and why we make this distinction, please click here.
TV Junkie: Tuesday - From the Incredibly New to the Incredibly Old
Our June member drive is live: protect this resource!
Right now, we need your help during our short June member drive to keep the local news you read here every day going. This has been a challenging year, but with your help, we can get one step closer to closing our budget gap. Today, put a dollar value on the trustworthy reporting you rely on all year long. We can't hold those in power accountable and uplift voices from the community without your partnership.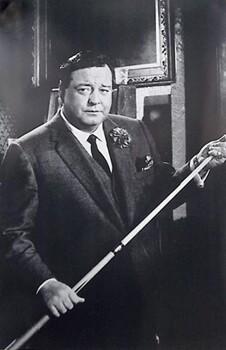 A few months ago LAist interviewed writer/creator/director Marshall Herskovitz about his web series Quarterlife, and lo and behold, the series debuts on NBC tonight! MySpace, which showcased Quarterlife has a new show of the hidden-camera comedy variety debuting this week as well, "Special Delivery", which will have episodes twice weekly. From these new media developments we turn to television's ancient past on today, Jackie Gleason's birthday, JackieGleason.comhas been launched with rare stills and clips of "The Great One" - a true TV pioneer.
7:15pm Miracle of Morgan's Creek TCM - (1944) Classic Preston Sturges comedy
9:00pm Big Brother: 'Til Death Do You Part CBS - After some shenanigans the house engages in a loopy Jericho-themed veto - and this show is followed by what? A new episode of Jericho, duh.
9:00pm Frontline/World: State of Emergency PBS/KCET - Uplifting topics such as the Pakistani army battling Taliban insurgents in the mountainous Swat Valley; democracy in Russia during the elections, etc.
10:00pm Quarterlife NBC - TV Premiere. Is this a first? A program going from the Internet to the networks?
10:00pm The Bad Girls Club OXYGEN - The girls are trash-talkin' on Oprah's old network.
11:30pm The Late Show With David Letterman CBS - Courteney Cox shovels Dirt, Thomas Friedman slings dirt, Chingy with Ludacris get dirty
12:35am Late Night With Conan O'Brien NBC - Will Ferrell (who was great on Letterman last night), Rashida Jones, tae kwon do expert Fred Simmons
Donald Trump was a fading TV presence when the WGA strike put a dent in network schedules.

Pickets are being held outside at movie and TV studios across the city

For some critics, this feels less like a momentous departure and more like a footnote.

Disneyland's famous "Fantasmic!" show came to a sudden end when its 45-foot animatronic dragon — Maleficent — burst into flames.

Leads Ali Wong and Steven Yeun issue a joint statement along with show creator Lee Sung Jin.

Every two years, Desert X presents site-specific outdoor installations throughout the Coachella Valley. Two Los Angeles artists have new work on display.