This is an archival story that predates current editorial management.
This archival content was written, edited, and published prior to LAist's acquisition by its current owner, Southern California Public Radio ("SCPR"). Content, such as language choice and subject matter, in archival articles therefore may not align with SCPR's current editorial standards. To learn more about those standards and why we make this distinction, please click here.
TV Junkie: Sex On Wheels; Amy Sedaris on Letterman; Poison on Ferguson
Support your source for local news!
The local news you read here every day is crafted for you, but right now, we need your help to keep it going. In these uncertain times, your support is even more important. Today, put a dollar value on the trustworthy reporting you rely on all year long. We can't hold those in power accountable and uplift voices from the community without your partnership. Thank you.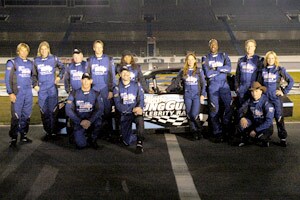 A Word or 54 (or so):
I know that there are some folks who are happy to be getting a few new episodes of the doomed Studio 60 - enjoy it while you can. Funny how there is no cohesive letter-writing campaign to save that one, at least not a campaign that is getting any press.
Tonight - Thursday - June 7th, 2007
Dodgers @ Padres (KCAL, 7:00 p.m.)
Pirate Master (CBS, 8:00 p.m.) Arrrrrr
Are You Smarter Than a 5th Grader? (Fox, 8:00 p.m.) After all the G&Ts last night, I'm no smarter than mud.
So You Think You Can Dance (Fox, 9:00 p.m.) So the 20 "finalists" are announced.
Fast Cars & Superstars: The Gillette Young Guns Celebrity Race (ABC, 9:30 p.m.) Series premiere! Jewel vs. Shatner vs. Tony Hawk etc.
Studio 60 on the Sunset Strip (NBC, 10:00 p.m.) New episode - Jordan rushes into surgery, what up with Tom's brother?
The Daily Show With John Stewart (Comedy Central, 11:00 p.m.) Eddie Izzard
Charlie Rose (PBS, 11:00 p.m.) Governor Haley Barbour; and then a bunch of art gallery stuff, Monet and Picasso and things
The Colber(t) Repor(t) (Comedy Central, 11:30 p.m.) Author Cullen Murphy
Late Show With David Letterman (CBS, 11:35 p.m.) Davefave Amy Sedaris; Chuck "The Iceman" Liddell; Jordan Zevon performs
The Tonight Show With Jay Leno (NBC, 11:35 a.m.) Don Rickles; Josh Flitter; Emo alert: Dashboard Confessional performs
Jimmy Kimmel LIVE (ABC, 12:05 a.m.) Seth Rogan; Megan Fox, Chris Cornell performs
The Late Late Show With Craig Ferguson (CBS, 12:35 a.m.) Don Cheadle; Poison performs!
Late Night With Conan O'Brien (NBC, 12:35 a.m.) Marg Helgenberger; Steven Schirripa
Fast Cars & Superstars pic via ABC
Donald Trump was a fading TV presence when the WGA strike put a dent in network schedules.

Pickets are being held outside at movie and TV studios across the city

For some critics, this feels less like a momentous departure and more like a footnote.

Disneyland's famous "Fantasmic!" show came to a sudden end when its 45-foot animatronic dragon — Maleficent — burst into flames.

Leads Ali Wong and Steven Yeun issue a joint statement along with show creator Lee Sung Jin.

Every two years, Desert X presents site-specific outdoor installations throughout the Coachella Valley. Two Los Angeles artists have new work on display.