TV Junkie: Sex On Wheels; Amy Sedaris on Letterman; Poison on Ferguson
Stories like these are only possible with your help!
You have the power to keep local news strong for the coming months. Your financial support today keeps our reporters ready to meet the needs of our city. Thank you for investing in your community.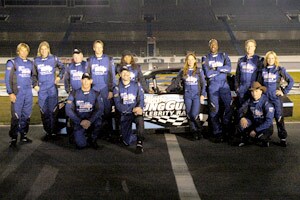 A Word or 54 (or so):
I know that there are some folks who are happy to be getting a few new episodes of the doomed Studio 60 - enjoy it while you can. Funny how there is no cohesive letter-writing campaign to save that one, at least not a campaign that is getting any press.
Tonight - Thursday - June 7th, 2007
Dodgers @ Padres (KCAL, 7:00 p.m.)
Pirate Master (CBS, 8:00 p.m.) Arrrrrr
Are You Smarter Than a 5th Grader? (Fox, 8:00 p.m.) After all the G&Ts last night, I'm no smarter than mud.
So You Think You Can Dance (Fox, 9:00 p.m.) So the 20 "finalists" are announced.
Fast Cars & Superstars: The Gillette Young Guns Celebrity Race (ABC, 9:30 p.m.) Series premiere! Jewel vs. Shatner vs. Tony Hawk etc.
Studio 60 on the Sunset Strip (NBC, 10:00 p.m.) New episode - Jordan rushes into surgery, what up with Tom's brother?
The Daily Show With John Stewart (Comedy Central, 11:00 p.m.) Eddie Izzard
Charlie Rose (PBS, 11:00 p.m.) Governor Haley Barbour; and then a bunch of art gallery stuff, Monet and Picasso and things
The Colber(t) Repor(t) (Comedy Central, 11:30 p.m.) Author Cullen Murphy
Late Show With David Letterman (CBS, 11:35 p.m.) Davefave Amy Sedaris; Chuck "The Iceman" Liddell; Jordan Zevon performs
The Tonight Show With Jay Leno (NBC, 11:35 a.m.) Don Rickles; Josh Flitter; Emo alert: Dashboard Confessional performs
Jimmy Kimmel LIVE (ABC, 12:05 a.m.) Seth Rogan; Megan Fox, Chris Cornell performs
The Late Late Show With Craig Ferguson (CBS, 12:35 a.m.) Don Cheadle; Poison performs!
Late Night With Conan O'Brien (NBC, 12:35 a.m.) Marg Helgenberger; Steven Schirripa
Fast Cars & Superstars pic via ABC