This is an archival story that predates current editorial management.
This archival content was written, edited, and published prior to LAist's acquisition by its current owner, Southern California Public Radio ("SCPR"). Content, such as language choice and subject matter, in archival articles therefore may not align with SCPR's current editorial standards. To learn more about those standards and why we make this distinction, please click here.
TV Junkie: National College Football Champtionship; Colbert & Stewart Back From Vacation
Before you read this story...
Dear reader, we're asking for your help to keep local reporting available for all. Your financial support keeps stories like this one free to read, instead of hidden behind paywalls. We believe when reliable local reporting is widely available, the entire community benefits. Thank you for investing in your neighborhood.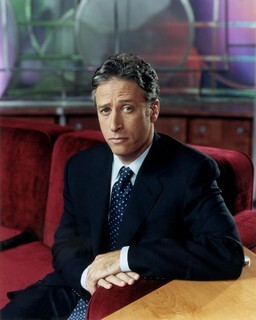 A Word or 39-ish:
So whadyathinkof "the Apprentice: LA"? Was it LA-flavored enough for you or did it perpetuate the idiotic stereotypes all over again? It might have been better if they had manage to quarantine that thing to the East coast.
Tonight - Monday - January 8th, 2007
Ohio State Buckeyes vs. the Florida Gators (FOX, 5:30 p.m.) This is it, the "BCS National Championship" football game
Oilers @ Kings (Fox Sports, 7:30 p.m.) NHL
"How I Met Your Mother" (CBS, 8:00 p.m.) Everybody talks about their "first" time.
"Gay, Straight or Taken?" (Lifetime, 8:00 p.m.) Series premiere. Is your gaydar on?
"Wife Swap"/"Supernanny" (ABC, 8-10:00 p.m.) ABC's pair of family-hell exploitationistas
"I Love New York" (VH1, 9:00 p.m.) Series premiere. If you couldn't get enough of Flavor Flav's "True Love" New York, she's got her own show now (thanks liz!)
"Tom Thumb" (TCM, 9:30 p.m.) With Terry-Thomas and Peter Sellers in this 1958 fantasty, you can't go wrong. Stoners' delight.
"CSI: Miami" (CBS, 9:55 p.m.) The lab guys try to prove Natalia's innoncence.
"The (White) Rapper Show" (VH1, 10:30 p.m.) Series premiere. Hosted by MC Serch from 3rd Bass.
"The Daily Show with Jon Stewart" (Comedy Central, 11:00 p.m.) Comedian Louis C.K. pushing "Lucky Louie"
"The Colber(t) Repor(t)" (Comedy Central, 11:30 p.m.) Drug policy Czar Ethan Nadelman
"The Late Show with David Letterman" (CBS, 11:30 p.m.) David Arquette pushing "In Case of Emergency", Jennifer Hudson pushing "Dreamgirls"
"The Tonight Show with Jay Leno" (NBC, 11:35 p.m.) Kiefer Sutherland pushing new season of "24", Betty White (is still alive??), American Idol Chris Daughtry performs
"Late Night With Conan O'Brien" (NBC, 12:35 a.m.) Matt Lauer (doesn't he get enough airtime on "Today"?), Ugly Betty America Ferrera, Little Big Town performs
photo of Jon Stewart via Comedy Central