This is an archival story that predates current editorial management.
This archival content was written, edited, and published prior to LAist's acquisition by its current owner, Southern California Public Radio ("SCPR"). Content, such as language choice and subject matter, in archival articles therefore may not align with SCPR's current editorial standards. To learn more about those standards and why we make this distinction, please click here.
TV Junkie: Monday's Picks
We need to hear from you.
Today during our spring member drive, put a dollar value on the trustworthy reporting you rely on all year long. The local news you read here every day is crafted for you, but right now, we need your help to keep it going. In these uncertain times, your support is even more important. We can't hold those in power accountable and uplift voices from the community without your partnership. Thank you.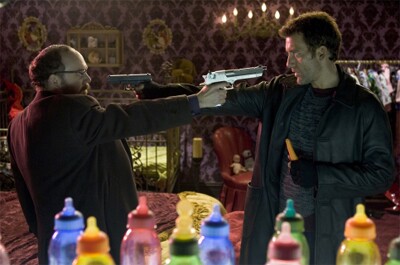 The only thing this week means to me is that It's Always Sunny In Philadelphia premieres on Thursday. I've seen some previews and goddam if that shit isn't funny.
9:00pm Dateline NBC - Sensationalist exploitation of the Connecticut home invasion by 2 ex-cons that left a woman and her 2 daughters dead and her husband badly beaten.
10:00pm Saving Grace TNT - For lack of anything better (Dr. 90210 anyone??) I guess the only choice is to watch some MILFY Holly Hunter.
11:35pm Late Show With David Letterman CBS - Jodie Foster
12:35am Late Night With Conan O'Brien NBC - Paul Giamatti pushes Shoot 'em Up; Alyson Hannigan pushes new season of How I Met Your Mother; Bad Religion performs!
But Yeoh is the first to publicly identify as Asian. We take a look at Oberon's complicated path in Hollywood.

His latest solo exhibition is titled "Flutterluster," showing at Los Angeles gallery Matter Studio. It features large works that incorporate what Huss describes as a "fluttering line" that he's been playing with ever since he was a child — going on 50 years.

It's set to open by mid-to-late February.

The new Orange County Museum of Art opens its doors to the public on Oct. 8.

Cosplayers will be holding court once again and taking photos with onlookers at the con.

Littlefeather recalls an "incensed" John Wayne having to be restrained from assaulting her and being threatened with arrest if she read the long speech Brando sent with her.