This is an archival story that predates current editorial management.
This archival content was written, edited, and published prior to LAist's acquisition by its current owner, Southern California Public Radio ("SCPR"). Content, such as language choice and subject matter, in archival articles therefore may not align with SCPR's current editorial standards. To learn more about those standards and why we make this distinction, please click here.
TV Junkie: Interview with Michael Raymond James of FX's 'Terriers'
We need to hear from you.
Today, put a dollar value on the trustworthy reporting you rely on all year long. The local news you read here every day is crafted for you, but right now, we need your help to keep it going. In these uncertain times, your support is even more important. We can't hold those in power accountable and uplift voices from the community without your partnership. Thank you.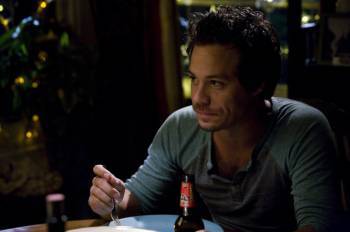 Michael Raymond-James stars in FX's "Terriers", Wednesday nights at 10pm.
A couple weeks ago we posted our interview with Donal Logue (clip at the end of this post) where he gave us a few indicators of what it's like to work on "Terriers" with co-star Michael Raymond-James who plays Britt Pollack. We're familiar with Raymond-James as Rene Lenier on HBO's "True Blood" and enjoyed seeing him in a montage during the season finale on Sunday. The rapport between these two actors establishes a very solid core for this show and balances the strong plotlines set by (expert) showrunner Shawn Ryan.Let us know what you've thought about the first two episodes that have aired so far ("Terriers" on FX at 10pm on Wednesdays).
---
LAist: Hi, how's it going, Michael?
Michael Raymond-James: Good, man.
LAist: Great to speak with you. The "bromance" factor between your character and Donal Logue's has been much-discussed and I just am wondering about how you guys cultivated this incredible rapport that you have. You both really seem like you're very comfortable riding around in a beat-up Ford Courier. There's probably some fast food wrappings there in the foot wells and stuff and I'm just wondering, I spoke with Donal a few weeks ago. He said that you guys had rented a beach house, I guess, for a little while. What was that like? Were you guys going over scripts? Can you maybe illuminate a bit more about how you guys reached this very tangible kind of relationship that we can see?
Michael Raymond-James: Yes, sure. First of all, it required zero effort. Donal and I hit it off immediately when I did a guest star on an episode of "Life" and it was just one of those moments for me where it's like no matter where my journey takes me through life or whatever, this is some dude that I'm going to be close with for the remainder of it. And it doesn't mean that this is somebody I'm going to necessarily see every day or hangout with every day but it's going to be somebody I know our paths are going to cross at some point and we'll pickup right where we left off and that's actually what happened.
And when we got the pickup to go to series [with "Terriers"] we were going to shoot in San Diego so we were trying to figure out living situations and the network gives you like $7,500 for a relocation sort of thing and we decided to take the money and rent our own house together just because a) we like hanging together and we thought it would be helpful in the show with the amount of hours we were going to have to work.
And we both play guitar and like a lot of similar sort of literature and poetry and music and movies and just sort of kindred spirits, man, and it did help a lot with the work. Every day when they would call wrap we'd get the call sheet for tomorrow's scenes and we would go home and we would run lines together. Sometimes he'd run a scene with me between me and Laura and he would read Laura's lines and I would do it when he had a scene with Kim Quinn or Rockmond or whatever and it was great.
We just sort of work shopped stuff and the benefit was just that we were always prepared then the next day when we'd show up together even after a 15 hour grind and it's just really I was - we are both really lucky to be in a situation where you a) have a friend that's sort of with you on this journey and b) this is somebody that is going to really help you make the work better.
And aside from that, just having each other there as buddies is so huge, man. When you're working on location for five months people like Donal and I can both start to get a little weird. As the time sort of drags on you sort of start to feel isolated in this weird fishbowl. But being there for each other and having a brother going through it with you is just huge.
---
"Terriers" airs on FX every Wednesday at 10:00pm
Interview with Donal Logue at the "Sons of Anarchy" premiere on August 30, 2010:

But Yeoh is the first to publicly identify as Asian. We take a look at Oberon's complicated path in Hollywood.

His latest solo exhibition is titled "Flutterluster," showing at Los Angeles gallery Matter Studio. It features large works that incorporate what Huss describes as a "fluttering line" that he's been playing with ever since he was a child — going on 50 years.

It's set to open by mid-to-late February.

The new Orange County Museum of Art opens its doors to the public on Oct. 8.

Cosplayers will be holding court once again and taking photos with onlookers at the con.

Littlefeather recalls an "incensed" John Wayne having to be restrained from assaulting her and being threatened with arrest if she read the long speech Brando sent with her.