TV Junkie: Don Draper Is Not Satan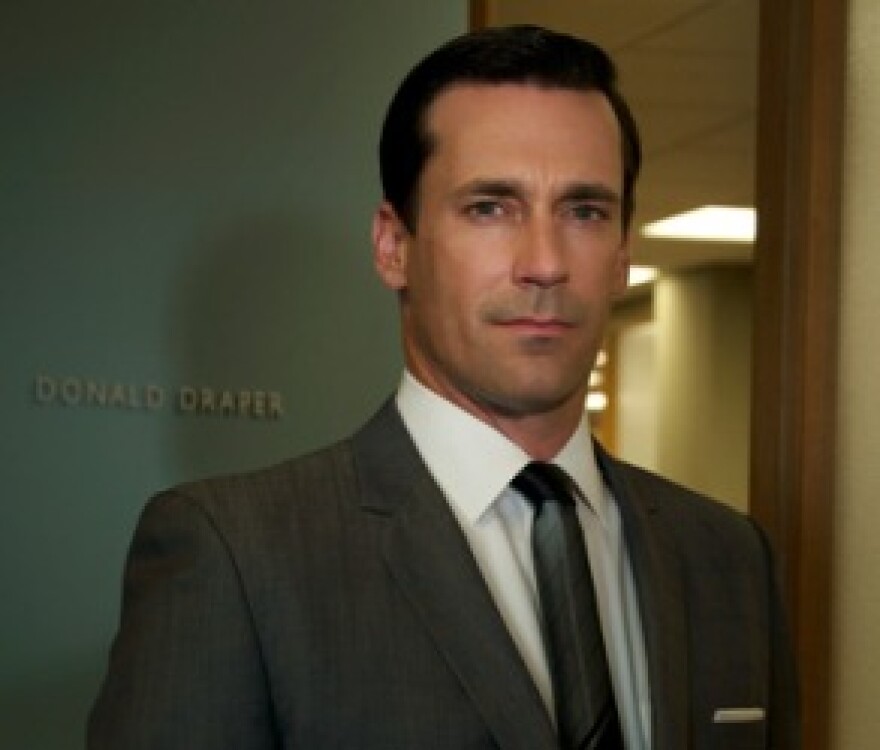 LAist relies on your reader support, not paywalls.
Freely accessible local news is vital. Please power our reporters and help keep us independent with a donation today.
Hey high rollers, how'd you like that "Man Men" premiere last night? According to Nielsen Media Research 48% of you "Mad Men" watchers make more than $100,000/yr so you're already living the life.We thought it was a great start to the season - the cream of the crop at Don Draper's new agency, rallying around and seeking his approval. Mary McNamara at the LA Times asserts that Don Draper is the Devil incarnate which is convenient for her humorous poke at the character that a lot of men want to be and a lot of women want to be with. Don Draper isn't the Devil - he has so little control over himself and others, he is obviously enslaved to his own greed. Whether the greed that consumes him is emblematic of an era, either the 1960s or the present, is another debate.
If Don Draper isn't the Devil, then is what he does evil? Not the cheating on his wife, not the cheating on his mistress(es), but the marketing stuff? Last night [spoiler alert] Draper kicked a prospective client out of his (deliberately emphasized) office because, not only were they prudes, but didn't respond favorably to his (paraphrased) "your company will die unless you do what I say" pitch. When Don doesn't get what he wants he acts like a big baby, is the season going to be about him coming to terms with his lack of self-control? He's already lost his family, he's stripped talent from his previous employer to start a company that really isn't doing very well, and eschews nice girls in order to receive a regular jolt of kinky sex from a prostitute. Yet Don needs to keep moving forward, to keep growing and expanding, to get more stuff, so he gets a 2nd chance at a personal interview, this time with the Wall Street Journal, and spreads the cheese thick - talking up his current situation as the deliberate actions of a talented tiger in the jungle of big-client marketing.
We're expecting that next week new clients will come running, cash in hand, and Draper will be taking some of that cash to his local sex worker, for some timely slaps in the face.
---
The incredible Linda Hamilton of Terminator fame will be joining "Chuck" in a recurring guest role as the Mom-of-Chuck!
---
The TV Junkie Plan: "Top Gear", "Anthony Bourdain" (India), Ferguson (Steve Carell, She & Him).