TV Junkie: Britney Blows .....MTV Outta The Water; Shatner Smiles & Interviews
LAist relies on your reader support, not paywalls.
Freely accessible local news is vital. Please power our reporters and help keep us independent with a donation today.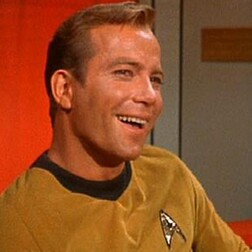 Oops, she did it again: Were you one of the 3.7 million people who watched Britney on Sunday? That "documentary" blew all of MTV's other shows out of the water, viewershipwise, other than their Video Music Awards broadcasts. Happy Birthday Britney.
What's all this nonsense about TiVo guilt? It's called the "Clear" button, people, use it and get on with your lives, lives that are obviously too busy to watch all the TV you TiVo'd. However, if you are a TJ Junkie = addict like myself, with a pathetically empty an meaningless life, you are never too busy to watch all the TV you TiVo'd. The problem is that right now, other than a few season finales, the TV landscape is a featureless wasteland and my TiVo is nearly empty.
The TV Junkie Plan: "Fringe", Shatner, Touch of Evil
7:15pm-?? Orson Welles Marathon TCM - Great night of movies from Orson, including "The Magnificent Ambersons", "Journey Into Fear", "A Touch of Evil"
9:00pm Fringe FOX - While investigating a string of bank robberies, Olivia, Walter and Peter find one of the suspects trapped inside a vault as if the wall had solidified around him.