TV Junkie: Britney Blows .....MTV Outta The Water; Shatner Smiles & Interviews
Stories like these are only possible with your help!
You have the power to keep local news strong for the coming months. Your financial support today keeps our reporters ready to meet the needs of our city. Thank you for investing in your community.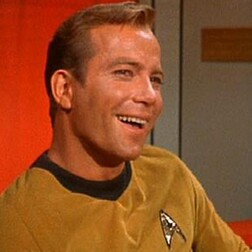 Oops, she did it again: Were you one of the 3.7 million people who watched Britney on Sunday? That "documentary" blew all of MTV's other shows out of the water, viewershipwise, other than their Video Music Awards broadcasts. Happy Birthday Britney.
What's all this nonsense about TiVo guilt? It's called the "Clear" button, people, use it and get on with your lives, lives that are obviously too busy to watch all the TV you TiVo'd. However, if you are a TJ Junkie = addict like myself, with a pathetically empty an meaningless life, you are never too busy to watch all the TV you TiVo'd. The problem is that right now, other than a few season finales, the TV landscape is a featureless wasteland and my TiVo is nearly empty.
The TV Junkie Plan: "Fringe", Shatner, Touch of Evil
7:15pm-?? Orson Welles Marathon TCM - Great night of movies from Orson, including "The Magnificent Ambersons", "Journey Into Fear", "A Touch of Evil"
9:00pm Fringe FOX - While investigating a string of bank robberies, Olivia, Walter and Peter find one of the suspects trapped inside a vault as if the wall had solidified around him.
9:00pm According to Jim ABC - Season Premiere.
9:00pm Paris Hilton's My New BFF MTV - Season Finale and reunion special.
9:00pm Coolio's Rules Oxygen - Season Finale
10:00pm Shatner's Raw Nerve Biography - Interviewer William Shatner attempts to probe his guests' most fascinating and sensitive subjects. Shatner!
10:00pm The Bad Girl's Club Oxygen - Season Premiere
10:00pm The Real Housewives of Orange County Bravo - Tamra's husband has quit his job to start his own business; Gretchen and Jeff shop for a motorcycle
10:30pm The Rookies A&E - Season Finale
11:35pm The Tonight Show With Jay Leno NBC - Comedian Kathy Griffin; TV personality David Frost; Colbie Caillat performs.
12:05am Jimmy Kimmel Live ABC - Actress Debra Messing; actor Kevin McKidd; Akon performs.
Shatner smiles and interviews on "Shatner's Raw Nerve" tonight on Biography Channel