This is an archival story that predates current editorial management.
This archival content was written, edited, and published prior to LAist's acquisition by its current owner, Southern California Public Radio ("SCPR"). Content, such as language choice and subject matter, in archival articles therefore may not align with SCPR's current editorial standards. To learn more about those standards and why we make this distinction, please click here.
TV Junkie: A 'Cougar Town' Makeover Please
Stories like these are only possible with your help!
You have the power to keep local news strong for the coming months. Your financial support today keeps our reporters ready to meet the needs of our city. Thank you for investing in your community.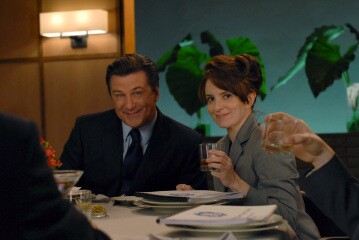 "30 Rock" has a Halloween theme tonight at 9:30pm on NBC
Tell us, have you watched "Cougar Town"? We've really tried to give this show a chance but the stilted dialogue and hollow stereotypes are starting to get to us: the whole "cougar" premise already seems tired and trite; the cast seems to be waiting for each line of dialogue to be stiffly delivered; and when is the increasingly frozen-faced Christa Miller going to be fed up with being cast as an insufferable harpy?However, the show is very popular, with viewership rivaling "Glee", "New Adventures of Old Christine", and several other comedies. The ratings are sure to go up with upcoming visits from the likes of Lisa Kudrow and other guest stars. We like Courteney Cox a lot and are happy to see her doing comedy again but think it should be in a better-written show. At least the ABC comedy we really like, "Modern Family", is outperforming "Cougar Town". What do you think?
---
UPDATE: NBC has cancelled "Trauma". Oh well, no more streets of San Francisco on TV.
---
Syfy is creating an Americanised version of BBC's "Being Human" to your screens with a targeted launch of Summer 2010 - as if we needed more vampires, werewolves, and ghosts on American television. Ministry was right, every day is Halloween.
---
Speaking of the dead walking the earth, "Scrubs" returns to TV on December 1st, but this time on ABC, and not in a hospital, and with a mostly new cast. "Scrubs" fans not in the know will be waaay confused.
---
We attempted to list shows that had Halloween themes this week and pretty much everything tonight on NBC has a Halloween theme, whether its a haunted house on "The Office" or a pumpkin carving contest on "30 Rock".
The TV Junkie Plan: "FlashForward", "The Office", "30 Rock", "Tosh.0", "The League", Letterman, Kimmel, Fallon.
Choice Listings
8:00pm Survivor: Samoa CBS - While visiting the opposing tribe, one castaway strikes a secret deal and makes some new friends.
8:00pm Community NBC - Jeff is forced to make a decision when the date he's scheduled with a hot statistics professor clashes with Annie's Day of the Dead party.
8:00pm FlashForward ABC - Mark, Demetri and Wedeck try to connect Janis' attack with a separate attack made on them
8:00pm SoCal Connected PBS/KCET - "Moveable Feast" focuses on LA's fleet of gourmet food trucks a favorite theme here at LAist
8:30pm Parks and Recreation NBC - Leslie asks Dave and Andy to help her catch a teenage vandal; Ann tries to throw a fun Halloween party.
9:00pm The Office NBC - The office plans a haunted house for children in the community
9:00pm American Chopper TLC - Paul Sr. and his sons form a truce to appear on "Larry King Live"
9:30pm 30 Rock NBC - Jack and Liz travel to Kenneth's hometown in search of new talent; Jenna tries to befriend the writer
10:00pm It's Always Sunny In Philadelphia FX - The gang gets into wrestling
10:00pm Tosh.0 Comedy Central - The web, Toshified
10:00pm The Mentalist CBS - When a wealthy man dies, witnesses claim he was killed by a ghost haunting his mansion.
10:00pm The Jay Leno Show NBC - TV personality Dave Salmoni; actress Tina Fey; comic Jim Norton.
10:30pm The League FX - Series Premiere!
11:35pm Late Show With David Letterman CBS - Actor Tom Hanks; Weezer performs.
11:35pm The Tonight Show With Conan O'Brien NBC - Actor Denis Leary; bat expert Rob Mies; The Swell Season performs.
12:05am Jimmy Kimmel Live ABC - Actor Jason Schwartzman; Rod Stewart performs.
12:35am The Late Late Show With Craig Ferguson CBS - Former Speaker of the House Newt Gingrich; actress Jessalyn Gilsig
12:35am Late Night With Jimmy Fallon NBC - Actress Carrie Fisher; actor Sam Rockwell; Mastodon performs.
A new Behind-the-Scenes vid from "The Office":