This is an archival story that predates current editorial management.
This archival content was written, edited, and published prior to LAist's acquisition by its current owner, Southern California Public Radio ("SCPR"). Content, such as language choice and subject matter, in archival articles therefore may not align with SCPR's current editorial standards. To learn more about those standards and why we make this distinction, please click here.
TV Junkie: Sunday Features HBO Finales as well as a Colbert Christmas Special
Before you read more...
Dear reader, we're asking you to help us keep local news available for all. Your financial support keeps our stories free to read, instead of hidden behind paywalls. We believe when reliable local reporting is widely available, the entire community benefits. Thank you for investing in your neighborhood.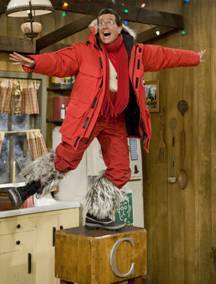 A couple season finales happen this Sunday on HBO. Ironically, "True Blood" finishes its first season on the weekend that the film "Twilight" premieres. Somehow the hype machine has ensured that "Twilight" will be a big hit this weekend even though it is nothing more than a teen romance movie with marginal acting and poor writing. In contrast, "True Blood" has been a rollercoaster with some great character development and performances, ensuring that we will eagerly await its return.
Then there's the show that we love to hate, "Entourage". The show is fun to watch but thank goodness it's limited to a half-hour as, despite several seasons under its belt, it relies on cookie cutter characterizations and comic book style plotlines. The last few weeks of Stellan Skarsgård playing a boringly two-dimensional Nazi-type German director (although we did agree with Verner that Vince can't act) almost eclipsed the fun and interesting episodes earlier in the season, namely the opening couple weeks and other high points (no pun intended) such as the mushroom-taking trip to Joshua Tree. Farewell "Entourage", may your writers get their act together for next season.
Tonight
8:00pm Toughest Race on Earth: Iditarod Discovery - Season Finale
10:00pm Crash Starz - Ben gets hyped up on drugs and haunted by an old friend
10:00pm NUMB3RS CBS - Don and the team must rescue trapped passengers after a train collision.
10:00pm 20/20 ABC - An interview with Ashley Dupre, the "escort" at the center of the scandal that brought down then-New York Gov. Elliot Spitzer.
10:00pm The Payaso Comedy Slam Comedy Central - Nine Latino comics perform at San Bernardino's California Theatre; performers include Joey Medina, Jeff Garcia, Joey Diaz, Johnny Sanchez, Edwin San Juan, Rick Ramos, George Perez and Erik Griffin.
12:35am Late Night With Conan O'Brien NBC - Actor Kiefer Sutherland; TV and radio personality Rachel Maddow; Vampire Weekend performs.
Saturday
12:00pm Flip This House A&E - Season Finale
8:00-11:00pm Crocodile Feeding Frenzy / Bear Feeding Frenzy / Lion Feeding Frenzy Discovery - 3 Hours of Feeding Frenzies!!
11:25pm Saturday Night Live NBC - Host Tim McGraw; Ludacris and T-Pain perform
Sunday
8:00pm 24 FOX - Jack Bauer tries to prevent an African warlord from recruiting children for his militia.
8:00pm The 2008 American Music Awards ABC - Rihanna, Taylor Swift, Kanye West, Alicia Keys, the Jonas Brothers and other musical artists perform; Jimmy Kimmel hosts.
9:00pm True Blood HBO - Season Finale
9:00pm Dexter Showtime - Dexter and Miguel's friendship is strained; Rita wants to confront Miguel; Debra searches furiously for Anton.
10:00pm Entourage HBO - Season Finale
10:00pm Californication Showtime - Hank declines an offer; Karen goes on a date with Ashby; Charlie and Daisy bond; Marcy remains on the mend.
10:00pm A Colbert Christmas Comedy Central - Stephen Colbert spends an evening with songs, skits and an in-depth analysis of naughty versus nice.
"It's a Colbert Christmas" pic via Comedy Central