TV Junkie: Sunday Features HBO Finales as well as a Colbert Christmas Special
LAist relies on your reader support, not paywalls.
Freely accessible local news is vital. Please power our reporters and help keep us independent with a donation today.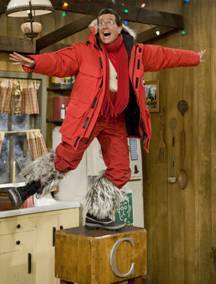 A couple season finales happen this Sunday on HBO. Ironically, "True Blood" finishes its first season on the weekend that the film "Twilight" premieres. Somehow the hype machine has ensured that "Twilight" will be a big hit this weekend even though it is nothing more than a teen romance movie with marginal acting and poor writing. In contrast, "True Blood" has been a rollercoaster with some great character development and performances, ensuring that we will eagerly await its return.
Then there's the show that we love to hate, "Entourage". The show is fun to watch but thank goodness it's limited to a half-hour as, despite several seasons under its belt, it relies on cookie cutter characterizations and comic book style plotlines. The last few weeks of Stellan Skarsgård playing a boringly two-dimensional Nazi-type German director (although we did agree with Verner that Vince can't act) almost eclipsed the fun and interesting episodes earlier in the season, namely the opening couple weeks and other high points (no pun intended) such as the mushroom-taking trip to Joshua Tree. Farewell "Entourage", may your writers get their act together for next season.