This is an archival story that predates current editorial management.
This archival content was written, edited, and published prior to LAist's acquisition by its current owner, Southern California Public Radio ("SCPR"). Content, such as language choice and subject matter, in archival articles therefore may not align with SCPR's current editorial standards. To learn more about those standards and why we make this distinction, please click here.
TV Junkie
Before you read more...
Dear reader, we're asking you to help us keep local news available for all. Your financial support keeps our stories free to read, instead of hidden behind paywalls. We believe when reliable local reporting is widely available, the entire community benefits. Thank you for investing in your neighborhood.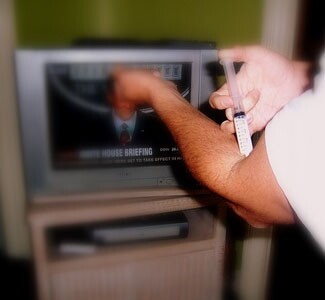 "Jericho" (CBS, 8:00 p.m.) The Mayor returns from his scouting trip to report on some really awful things he saw in the nuclear-apocalyptic world outside of town, what a shock.
"Bones" (FOX, 8:00 p.m.) The show is back from hiatus
"30 Rock" (NBC, 8:00 p.m.) This is the funnier of the 2 SNL rip-off shows, and thank goodness it's only a ½ hour sitcom.
"Lost" (ABC, 9:00 p.m.) Mr. Eko seems like he's losing it, and hey, don't forget that X-ray Jack saw in the Others' infirmary last week
"Dateline NBC" (NBC, 10:00 p.m.) Madonna talks about the adoption thing as well as the use of the crucifix in her tour – hasn't she been using crucifixes in her shows and albums for about 20 years now?
"The Colbert Report" (Comedy Central, 11:30 p.m.): Penn Jillette brings his own personal magic to the table
"Late Night With Conan O'Brien" (NBC, 12:35 a.m.): Is it gonna be Borat or Sacha Baron Cohen? I guess we'll find out, Borat was great on Letterman on Monday, Mastodon rocks it
"The Late Late Show With Craig Ferguson" (CBS, 12:35 a.m.): Amy Sedaris featured