Tonight & This Week in Rock: One More for Flight of the Conchords
Stories like these are only possible with your help!
You have the power to keep local news strong for the coming months. Your financial support today keeps our reporters ready to meet the needs of our city. Thank you for investing in your community.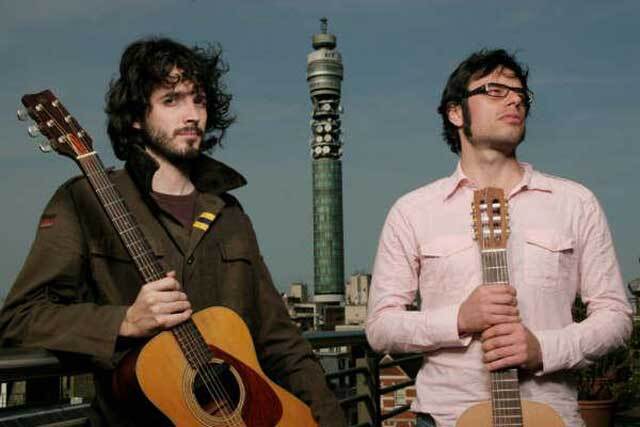 The Flight of the Conchords via their MySpace page
It's comedian Greg Proops last show at Largo on Fairfax and he's going out with a bang, Kiwi style. Flight of the Conchords are not listed on Largo's site, but a look at Proops' and there you have it (Jon Brion will also be there). According to Largo's voicemail update, all table reservations are booked, but for the first 25 who get their early (meaning you probably have to line up now), there will be room at the bar.
Back in January, Tom Lewis interviewed Proops for LAist.
Tonight
Hot Chip @ The Mayan
Steel Panther @ Key Club
Colin Meloy, Laura Gibson @ The Music Box/Henry Fonda
She & Him, Lavender Diamond @ Vista Theatre
I'm From Barcelona, Dusty Rhodes and the River Band @ El Rey
Radars to the Sky, Flying Tourbillon Orchestra, Western States Motel, The Coral Sea @ The Echo
Johnathan Rice, Yes Dear @ Spaceland
Greg Proops, Flight of the Conchords @ Largo
Tuesday, April 29 2008
The Breeders, Colour Revolt @ El Rey
She & Him, Lavender Diamond @ Vista Theatre
Ed Banger's Post Coachella Party @ Cinespace
Check Yo' Ponytail @ Echoplex (check for guest list)
Zooey Deschanel @ Spaceland
Etran Finatawa, Masanga Marimba Ensemble @ Temple Bar
Wednesday, April 30 2008
Mike Doughty @ El Rey
Seal, Sean Kingston @ Avalon
Sara Lov @ Tangier
Colorforms, The Breakups @ Three of Clubs
The Entrance Band, Fool's Gold @ The Echo
Thursday, May 1 2008
Stone Temple Pilots @ Jimmy Kimmel Live
The Henry Clay People, Summer Darling, Coco B's, Codpiece @ The Prospector
Friday, May 2 2008
The Dodos @ Natural History Museum
Blind Melon @ El Rey
Peter Morén, Tobias Froberg @ Hotel Cafe
Ninja Academy, We Be The Echo, Totally Serious, Lifeless Animation @ The Smell
Berlin @ Crash Mansion
Saturday, May 3 2008
Kronos Quartet @ Walt Disney Concert Hall
Nortec Collective @ The Echo
The Slackers in Los Angeles @ El Rey
Peter Morén, Tobias Froberg @ Troubadour
The Frankie Moreno Band @ The Cabana Club (benefits Pink Door's kick-off in LA)
Manic Hispanic, High Octane, Rebel Diaz @ Knitting Factory
Puddle of Mudd @ House of Blues
Sunday, May 4 2008
Duran Duran @ NOKIA Theatre LA Live
Po' Girl @ Hotel Cafe
Lyrics Born @ Key Club
Avril Lavigne @ The Gibson Amphitheatre
Mike Stinson, Hellbound Glory, The Midnight Boys, 50 Cent Haircut @ The Echo
The Hollow Trees @ The Skirball