This is an archival story that predates current editorial management.
This archival content was written, edited, and published prior to LAist's acquisition by its current owner, Southern California Public Radio ("SCPR"). Content, such as language choice and subject matter, in archival articles therefore may not align with SCPR's current editorial standards. To learn more about those standards and why we make this distinction, please click here.
The Dodgers Strike Back
Before you read more...
Dear reader, we're asking you to help us keep local news available for all. Your tax-deductible financial support keeps our stories free to read, instead of hidden behind paywalls. We believe when reliable local reporting is widely available, the entire community benefits. Thank you for investing in your neighborhood.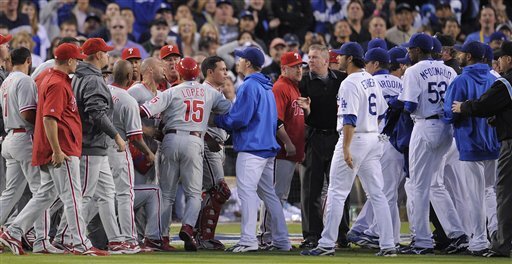 Dodgers standing up to the Phillies in the benches clearing kerfluffle. AP Photo/Chris Carlson
"We didn't throw at his head. We threw it over his head."
Russell Martin, with those words, you have endeared yourself even more to my heart.
In the first inning of game two, I was at work listening to Vin Scully describe the wife-beater Brett Myers aiming for Manny Ramirez and Martin. I was yelling up and down the cubes saying the Dodgers need to retaliate and not be soft. I was upset they didn't make any of the Phillies hitters uncomfortable. Hell, Brett Myers himself went three-for-three with three RBIs.
But in game three the Dodgers made a statement to the Phillies: if you want to play old-school hardball, bring it on. After Russell Martin was hit on the knee by Jamie Moyer in the first and brushed back on a pitch aimed at his head by Clay Condrey in the second inning, it was on. In the third inning with one out, almost every pitch thrown to Jimmy Rollins was inside. At one point Martin set up almost directly behind Rollins.
And after Rollins struck out looking, Shane Victorino came up to the plate. Kuroda's first pitch was thrown a foot over Victorino's head finally sending a message that was two days overdue. Victorino yammered to both Martin and Kuroda to hit his ribs, not his head which would be fine if the intent was to hit him. Victorino missed a strike and hit a ground out to first to end the inning when more words were exchanged.
Both benches and bullpens cleared, and even Manny ran (much to the envy of every Sox fan) to the infield to stand up for his teammates.
The message was delivered, and unlike other local teams in the playoffs the Dodgers did not go soft in the face of aggressiveness.
But forgotten in all this bean ball madness was the real statement of the game: the first inning batting practice the Dodger offense showed. With Methuselah himself on the mound throwing no fast than 30 mph, the Dodgers used paper cuts to weaken him thanks to singles and, of course, Martin being beaned.
Then with two outs and two strikes, Blake DeWitt made the inning was big hitting a bases-clearing triple down the right field line that barely hit fair. Compound that with Rafael Furcal's lead-off homer in the second inning to make it 6-1, the Dodgers made it clear they weren't just going to lay down.
Before a record crowd of 56,800 people (where the other 800 people sat is anyone's guess), the Dodgers have now pulled to a 2-1 deficit in the NLCS and have life pumping back in their veins. The tenor of this has changed, and if the Dodgers continue to not back down they will win this series.
Tonight it will be Joe Blanton against Derek Lowe. Blanton has had control issues and gave up five earned runs in 11 innings against the Dodgers this season. It should be an interesting game by far. But in the end the Dodgers will win.