This is an archival story that predates current editorial management.
This archival content was written, edited, and published prior to LAist's acquisition by its current owner, Southern California Public Radio ("SCPR"). Content, such as language choice and subject matter, in archival articles therefore may not align with SCPR's current editorial standards. To learn more about those standards and why we make this distinction, please click here.
Photos And Quotes From The Winning Stars In The Emmys Press Room
Before you read more...
Dear reader, we're asking you to help us keep local news available for all. Your financial support keeps our stories free to read, instead of hidden behind paywalls. We believe when reliable local reporting is widely available, the entire community benefits. Thank you for investing in your neighborhood.
After the red carpet, we went to the press room where we sat tangled up in laptop and camera cords and watched the Emmys unfold via a live feed. The winners were brought in to answer our questions and talk about their wins. Here are some of our favorite quotes from the parade of Emmy recipients we saw throughout the night.

Aaron Paul, Outstanding Supporting Actor in a Drama for Breaking Bad (Photo by Juliet Bennett Rylah/LAist)
Aaron Paul
Aaron Paul was asked about his scavenger hunt in Hollywood, hiding swag for Breaking Bad fans. He said it began with R.J. Mitte eating breakfast in an IHOP and "it ended with me running around West Hollywood with my Hazmat suit." He was also asked if he would ever tire of saying, "bitch." "I love saying the word, 'bitch,'" he replied. "End scene."

Allison Janney, Outstanding Supporting Actress in a Comedy for Moms (Photo by Juliet Bennett Rylah/LAist)
Allison Janney
Allison Janney won two Emmys this year—this one for Moms, and one for Guest Actress on Masters of Sex. She joked about clearing some room for new Emmys on her shelf, which she already has from her work on The West Wing. She said something most of us should take to heart: she does not troll her Twitter feed for negativity.

Best Drama, Breaking Bad (Photo by Juliet Bennett Rylah/LAist)
Breaking Bad
Creator Vince Gilligan said that he was not expecting to win as they were up against some tough competition, and that doing the show "is still like winning the lottery for me." Betsy Brandt said that while she's not personally a huge purple fan, she did wear purple shoes for the show's last run at the Emmys in honor of her character, Marie.

Bryan Cranston, Outstanding Lead Actor in a Drama for Breaking Bad (Photo by Juliet Bennett Rylah/LAist)
Bryan Cranston
Regarding his on-stage kiss with JLD, he said "It's not a question of why, but more a question of... why not?" He was also asked about his penchant for playing darker characters, but said that before Breaking Bad, he was known as a 'comedy guy' for his portrayal of the father on Malcolm in the Middle. X-Files fans will of course remember Cranston from the episode "Drive," in which Cranston played a character who is forced to drive west to alleviate a mysterious pain.

Cary Joji Fukunaga, Best Directing in a Drama for True Detective (Photo by Juliet Bennett Rylah/LAist)
Cary Fukunaga
While your new crush won't be directing the second season of anthology series True Detective, he did say his next project is a film called Beasts of No Nation and stars Luther's Idris Elba. It's based on the book of the same name by Uzodinma Iweala and is about a child soldier in an African civil war.

Jessica Lange, Outstanding Lead Actress in a Miniseries for American Horror Story (Photo by Juliet Bennett Rylah/LAist)
Jessica Lange
Lange recalled walking around the streets of New Orleans when a group of young men spotted her and said, "Holy shitballs. It's the Supreme." She said she was very excited for the upcoming Freakshow season of American Horror Story, but dodged any questions about whether this fourth season of AHS would be her final season with the series.

Julianna Margulies, Outstanding Lead Actress in a Drama for The Good Wife (Photo by Juliet Bennett Rylah/LAist)
Julianna Margulies
In her acceptance speech, Margulies said it was a great time for women in TV. She was asked to expound on that in the media room. "Look at what's happening right now: Viola Davis handed me an Emmy and she has her own show this fall, as well as Tea Leoni. There are complicated, interesting characters for women now. You don't see that in film, and if you do, it's far and few between."Someone also asked her if she was worried about the writers killing off her character, but she's not. I mean, she is the main character. She also said she likes the oxymoron of the title The Good Wife, as her character is not always good.

Louis C.K. for Best Writing in a Comedy Series for Louie (Photo by Juliet Bennett Rylah/LAist)
Louis C.K.
Louis C.K. expressed his love for Robin Williams, saying that he was a big influence for him, and was someone who worked hard and was "explosive with energy." When asked about meeting fans in real life, he said, "When you meet someone who's a big fan, it's just awkward and strange."

Best Miniseries, Fargo (Photo by Juliet Bennett Rylah/LAist)
The Fargo crew had lots of positive things to say about their TV adaptation of the film of the same name, but there was one thing they did not like. Director Colin Bucksey did not enjoy the -30 degree temps in the filming location of Calgary during their winter shooting season.

Julia Louis-Dreyfus, Outstanding Lead Actress in a Comedy for Veep (Photo by Juliet Bennett Rylah/LAist)
Julia Louis-Dreyfus
Julia Louis-Dreyfus says she loves playing her "powerful and powerless" character on Veep. When asked about the Seinfeld-throwback kiss she staged with Bryan Cranston, Louis-Dreyfus said, "I asked my husband if he was OK with that and he said, 'sure,' and Bryan checked with his wife and said, 'sure,' and we said we would go for it." When asked how it was, she said, "You saw it on TV and you tell me. It was pretty good. He really goes for it." She also said she would look like "total shit" without her glam squad, though that was prompted by a reporter asking what she would look like without them.

Kathy Bates, Outstanding Supporting Actress in a Miniseries for American Horror Story (Photo by Juliet Bennett Rylah/LAist)
Kathy Bates
Kathy Bates shared a touching story about meeting Robin Williams won the Academy Award for Misery, and about how the late actor gave her a quarter to call her mother. She said she never forgot that kindness. She also said she hopes she is remembered for giving humanity to characters that otherwise might not have any. For post-Emmy celebrations, Bates said, "I may sneak off to have dinner with Melissa McCarthy and her husband, Ben."

Sarah Silverman, Best Writing in a Variety Special for Sarah Silverman: We Are Miracles (Photo by Juliet Bennett Rylah/LAist)
Sarah Silverman
When asked about her nude scene in Masters of Sex, she said that while her breasts have not ever been any lower, they also will never be any higher. After all, she said, "they're just boobs." She also emphatically claimed she was not high, but also noted that the weed she pulled out on the Red Carpet is legal. The comedienne does not drink, so weed's kind of like a treat. No argument here, Sarah. And about winning? "I was shocked. I looked at my manager Amy and she was shocked too and I was like, 'why are you shocked?' ...I don't remember the second part of the question."

Stephen Colbert, Best Variety Series for The Colbert Report (Photo by Juliet Bennett Rylah/LAist)
Stephen Colbert
Stephen Colbert planned on celebrating his Emmy win with In-N-Out burger. "My pants are super tight and I had celery for breakfast," he explained. He was also asked to choose one person on the show who had the most important job. "Erica arranged for the breakfast buffet and the hair and makeup," he answered. "I don't care what else she does for the show. And for that, everyone else is fired."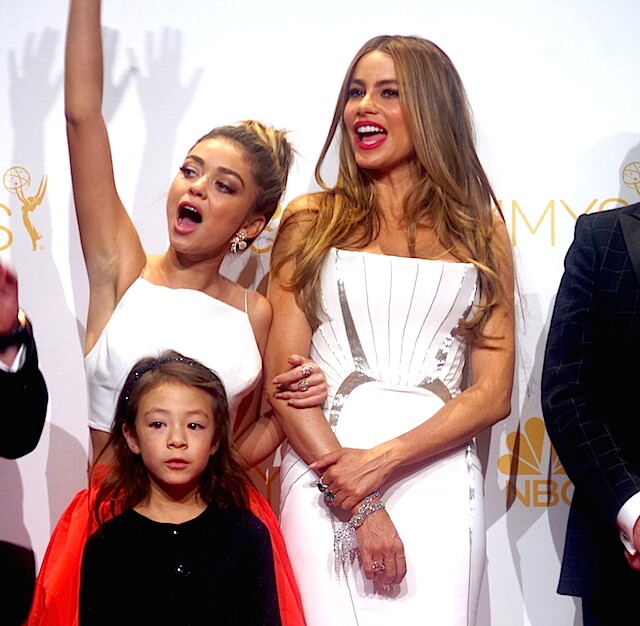 Sofia Vergara, Best Comedy for Modern Family (Photo by Juliet Bennett Rylah/LAist)
Sofia Vergara
Vergara defended the antic where she was literally placed on a pedestal, which some called sexist, by saying: "I think it's absolutely the opposite. It means that somebody can be hot and also be funny and make fun of herself. I think it's ridiculous that somebody started this—I know who she was—who has no sense of humor (and should) lighten up a little bit."Related:
Emmys Recap: Stoned Speeches, Make-Out Sessions And Andy Samberg As King Joffrey
Candid Photos From The 2014 Emmys Red Carpet
Our 9 Favorite Quickie Q&As From The Emmys 2014 Red Carpet