Pencil This In: Beer & Grilled Cheese in Redondo Beach, New Yorker Critic on Critics at REDCAT and Rant & Rave at Rogue Machine
Stories like these are only possible with your help!
You have the power to keep local news strong for the coming months. Your financial support today keeps our reporters ready to meet the needs of our city. Thank you for investing in your community.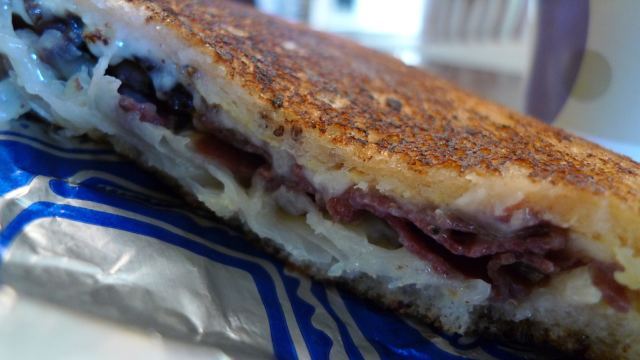 Chefs given the night off at Hudson House because the Grilled Cheese Truck is rolling in. | Photo by Julie Wolfson via LAist's flickr pool.
EAT
The Redondo Beach gastropub Hudson House has given chefs Brooke Williamson and Nick Roberts the night off and has invited The Grilled Cheese Truck to serve up melted, gooey goodness for its customers. The bar will be open to help pair the sandwiches with the right beer, wine or cocktail. 5-11 pm tonight.
TALK
*
The New Yorker theater critic Hilton Als speaks at REDCAT tonight about "Fact, Fiction and the Role of the Critic Today." The event's co-presented with the USC Annenberg School for Communication & Journalism tonight at 8:30 pm. Tickets: $10, students $5.
RANT/RAVE
Rogue Machine's Rant & Rave series gives local writers a topic and a time limit, and what they talk about is up to them. Tonight's topic is "Technology," and the writers get going at 8 pm. In the lineup tonight: Daniel Bottitta, Kate Connor, Emmy Lou Diaz, Coleman Sensei, Devon Gummersall, Rob Manuel, Jenny Martin and J. Keith van Straaten. Tickets are $15, but get $5 off if you bring one of your past-due bill from the last two months.
ART TALK
LACMA hosts drinks, appetizers and a discussion tonight at 5 pm with Henry Adams, author of Tom and Jack: The Intertwined Lives of Thomas Hart Benton and Jackson Pollock (2009). Adams talks with LACMA American art curator Austen Bailly about the artistic and personal relationships between two of the most legendary painters of the twentieth century. The discussion begins promptly at 5:30 with book signing to immediately follow. Art Catalogues Store, Ahmanson Building. The event is free and open to the public.
*Pencil pick of the day
Want more events? Follow me on Twitter.