This is an archival story that predates current editorial management.
This archival content was written, edited, and published prior to LAist's acquisition by its current owner, Southern California Public Radio ("SCPR"). Content, such as language choice and subject matter, in archival articles therefore may not align with SCPR's current editorial standards. To learn more about those standards and why we make this distinction, please click here.
Pencil This In: Beer & Grilled Cheese in Redondo Beach, New Yorker Critic on Critics at REDCAT and Rant & Rave at Rogue Machine
We need to hear from you.
Today during our spring member drive, put a dollar value on the trustworthy reporting you rely on all year long. The local news you read here every day is crafted for you, but right now, we need your help to keep it going. In these uncertain times, your support is even more important. We can't hold those in power accountable and uplift voices from the community without your partnership. Thank you.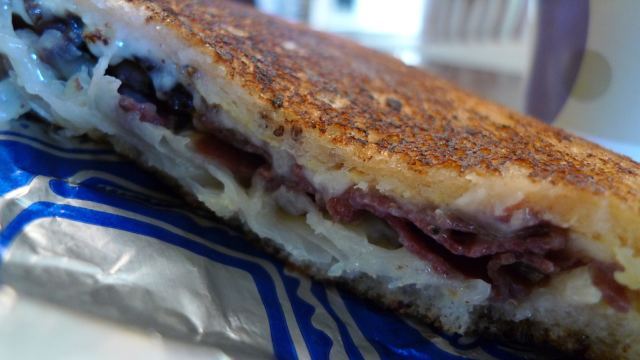 Chefs given the night off at Hudson House because the Grilled Cheese Truck is rolling in. | Photo by Julie Wolfson via LAist's flickr pool.
EAT
The Redondo Beach gastropub Hudson House has given chefs Brooke Williamson and Nick Roberts the night off and has invited The Grilled Cheese Truck to serve up melted, gooey goodness for its customers. The bar will be open to help pair the sandwiches with the right beer, wine or cocktail. 5-11 pm tonight.
TALK
*
The New Yorker theater critic Hilton Als speaks at REDCAT tonight about "Fact, Fiction and the Role of the Critic Today." The event's co-presented with the USC Annenberg School for Communication & Journalism tonight at 8:30 pm. Tickets: $10, students $5.
RANT/RAVE
Rogue Machine's Rant & Rave series gives local writers a topic and a time limit, and what they talk about is up to them. Tonight's topic is "Technology," and the writers get going at 8 pm. In the lineup tonight: Daniel Bottitta, Kate Connor, Emmy Lou Diaz, Coleman Sensei, Devon Gummersall, Rob Manuel, Jenny Martin and J. Keith van Straaten. Tickets are $15, but get $5 off if you bring one of your past-due bill from the last two months.
ART TALK
LACMA hosts drinks, appetizers and a discussion tonight at 5 pm with Henry Adams, author of Tom and Jack: The Intertwined Lives of Thomas Hart Benton and Jackson Pollock (2009). Adams talks with LACMA American art curator Austen Bailly about the artistic and personal relationships between two of the most legendary painters of the twentieth century. The discussion begins promptly at 5:30 with book signing to immediately follow. Art Catalogues Store, Ahmanson Building. The event is free and open to the public.
*Pencil pick of the day
Want more events? Follow me on Twitter.
But Yeoh is the first to publicly identify as Asian. We take a look at Oberon's complicated path in Hollywood.

His latest solo exhibition is titled "Flutterluster," showing at Los Angeles gallery Matter Studio. It features large works that incorporate what Huss describes as a "fluttering line" that he's been playing with ever since he was a child — going on 50 years.

It's set to open by mid-to-late February.

The new Orange County Museum of Art opens its doors to the public on Oct. 8.

Cosplayers will be holding court once again and taking photos with onlookers at the con.

Littlefeather recalls an "incensed" John Wayne having to be restrained from assaulting her and being threatened with arrest if she read the long speech Brando sent with her.