Pencil This In: Architect Massimiliano Fuksas @ LACMA, Photog Sebastião Salgado @ the Hammer
Stories like these are only possible with your help!
You have the power to keep local news strong for the coming months. Your financial support today keeps our reporters ready to meet the needs of our city. Thank you for investing in your community.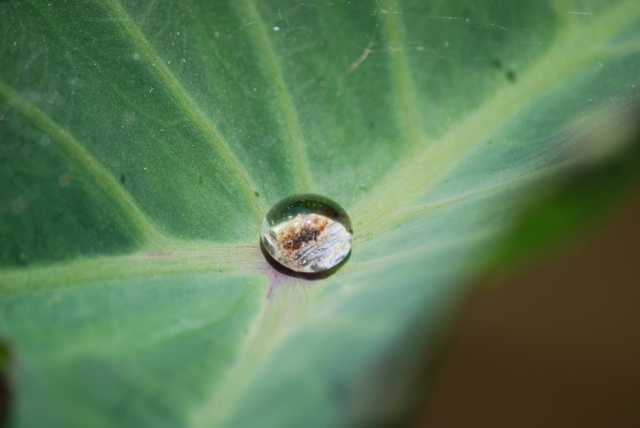 A drop of water by RuggyBear via LAist's flickr pool.
ARCHITECTURE
LACMA presents its Masters of Architecture Lecture Series with Italian architect Massimiliano Fuksas tonight at 7:30 pm. His studio focuses on urban design and public projects, including the Bao'an International Airport, Shenzhen, China; Congress Center EUR, Rome, Italy; African Institute of Science and Technology, Abuja, Nigeria; Zenith Music Hall, Strasbourg, France, and Amiens, France; Armani Ginza Tower, Tokyo, Japan; and New Milan Trade Fair, Milan, Italy. From 1998 to 2000, he served as director of the VII Biennale Internazionale di Architettura di Venezia "Less Aesthetics, More Ethics." Tonight he'll be introduced by LA Times architecture critic Christopher Hawthorne. Tickets are $12.
ART TALK*
The Hammer Museum presents documentary photographer Sebastião Salgado tonight at 7:30 pm. He's traveled the world to capture the "human toll of violence and migration in visually stunning photographs of manual laborers, refugees, and sprawling metropolises." In 1998, Salgado and his wife established the Instituto Terra to restore biodiversity to the Atlantic Forest in Brazil, encourage sustainable development, and conduct research and environmental education. While the program is free, tickets are required and are available at the Billy Wilder Theater Box Office one hour prior to start time. Parking is available under the museum for $3 after 6 pm. Hammer Museum
TRIBUTE
Some of Ray Charles' friends and colleagues provide insight into the life and music of the legendary musician at a members-only panel discussion at the Grammy Museum tonight. Moderated by Bob Santelli, museum executive director, panelists include former Raelett, Dr. Mable John; Victor Vanacore, his music director from 1991-2004; biographer and author David Ritz; Valerie Ervin, President of the Ray Charles Foundation; and Tony Gumina, President of the Ray Charles Marketing Group. The discussion begins at 7:30 pm. It's a museum member-only event, but it's free if you are one.
THEATRE
The Blank Theatre Company presents "Setup & Punch" tonight at 8 pm 2nd Stage in Hollywood. A songwriting duo's relationship is put to the test when they must collaborate with a "sex-god singer-composer" of a cutting edge rock band. "Love gets sung in the wrong key, providing the old adage: there are two sides to every triangle. This comedic, touching play will keep you laughing as you ride the groove of original songs by rockers Berton ("My Sharona") Averre and Rob Meurer."
CLASSICAL
The Baroque ensemble Bach's Circle presents an evening of chamber music featuring composers Handel, J.S. Bach and Vivaldi. The concert starts at 8:30 pm tonight at REDCAT. Don't forget to check out LAist's other classical music picks this week.
*Pencil pick of the day