This is an archival story that predates current editorial management.
This archival content was written, edited, and published prior to LAist's acquisition by its current owner, Southern California Public Radio ("SCPR"). Content, such as language choice and subject matter, in archival articles therefore may not align with SCPR's current editorial standards. To learn more about those standards and why we make this distinction, please click here.
Movie Calendar: Edie Sedgwick, David Wojnarowicz, William Eggleston, Antonio Banderas (and Orson Welles)
Before you read this story...
Dear reader, we're asking for your help to keep local reporting available for all. Your financial support keeps stories like this one free to read, instead of hidden behind paywalls. We believe when reliable local reporting is widely available, the entire community benefits. Thank you for investing in your neighborhood.
Wednesday, January 17 - Thursday, January 18
In the bizarre, muddled Ciao! Manhattan art imitates life as glamorous socialite-turned-model-turned-Warhol-icon Edie Sedgwick, who died at age 28 from an overdose, plays Susan Superstar, a former model-turned-underground-screen-siren-turned-alcoholic who has retreated to her mother's house. The New Beverly is screening the film alongside Kiss of the Spider Woman.
WHEN: 7:30 pm; January 17 - 18
WHERE: The New Beverly, 7165 West Beverly Blvd., LA, CA 90036
ADMISSION: general $7.00; students with ID $6.00; seniors & kids $4.00.
Friday, January 19
To celebrate the release of the book David Wojnarowicz: A Definitive History of Five or Six Years on the Lower East Side LACE will host a screening of rare East Village films by and about painter/writer/performance artist/provocateur David Wojnarowicz, who died in 1992 at the age of 38.
Films include (but are not limited to)…
Fire in My Belly (1987): David Wojnarowicz, Music Diamanda Galas
Last Night I took a Man (1989): Text David Wojnarowicz, Images Marion Scemama, Editing François Pain
What is this Little Guy's Job in the World (1987):David Wojnarowicz
In This House (1989): Text & Image David Wojnarowicz
Around Clown (1987): David Wojnarowicz and Steve Doughton
Fear of Disclosure (1990): David Wojnarowicz and Phil Zwickler
Stray Dogs (1985): Richard Kern
WHEN: 8:00 pm; Friday, January 19.
WHERE: LACE, 6522 Hollywood Blvd. Los Angeles 90028
ADMISSION: 323-957-1777
Friday, January 19
To kick off Friday Nights at the Getty, the Getty Museum will host a free screening of a documentary about American photographer William Eggleston whose pictures of everyday objects somehow transcend the ordinary-ness of everyday life. Eggleston's artistic appeal and enigmatic demeanor have so captivated filmmakers that two separate documentaries about him have been released in the past few years.The first was 2005's William Eggleston in the Real World, directed and shot by Michael Almereyda. The film is slow, at times even a bit tedious, and it's not well shot, which is a shame for a documentary about the man hailed as "the father of color photography." But what Almereyda lacks as a documentary cinematographer he makes up for with the intimacy he achieves with his subject. From old home movies to Eggleston's experimental videos, from the drunken, rambling monologues of Eggleston's mistress to footage of him playing the piano (Roy Orbison's sublime "In The Real World" gives the film its title), Almereyda has sketched a very personal portrait of Eggleston. But that's not the film the Getty is screening.
The Getty is screening the other, more recent Eggleston documentary, By the Ways: A Journey with William Eggleston. Directed by a French crew who followed their subject through the South, the film includes interviews with Eggleston, glimpses of him behind the lens and tributes from other artists. The imagery is lovingly and carefully composed, but result is a less intimate, more straightforward look at Eggleston's work.
If you combined the imagery of By the Ways with the video diary-style intimacy of In the Real World you'd have one excellent documentary about William Eggleston. Instead, you can see two flawed but still interesting pieces about a man who remains as enigmatic as his work.
WHEN: 7:30 pm; Friday, January 19
WHERE: Getty Center, Harold M. Williams Auditorium
ADMISSION: Free; reservations required. Call 310-440-7300
Friday, January 19
Beginning this weekend and continuing every Friday and Saturday for the following six weeks LACMA will offer up a selection of "surrealist" films as a tie-in with its current Magritte exhibition. While most of the films in Through the Looking Glass (and Down the Rabbit Hole…) could only be termed surrealist in the loosest sense of the word, they all explore perception and memory through fractured narratives, dreamlike imagery or bizarre subject matter.
The series begins this weekend with a double-feature of Orson Welles' The Lady from Shanghai and Otto Preminger's Bunny Lake Is Missing on Friday followed by David Lynch's Mulholland Drive on Saturday. In Lady from Shanghai Welles plays a sailor who agrees to help a wealthy man fake his own death but finds himself on trial when the man actually ends up dead. Co-star Rita Hayworth (the Angelina Jolie of her day) looks as eye-poppingly gorgeous as ever even with her hair dyed blonde.
WHEN: Friday, January 19
7:30 pm The Lady from Shanghai
9:15 pm Bunny Lake Is Missing
Saturday, January 20
7:30 pm Mulholland Drive
WHERE: Leo S. Bing Theater at LACMA
5905 Wilshire Blvd., LA, CA 90036
ADMISSION: $9; $6 for museum and AFI members, seniors (62+), and students with valid ID. Price includes both films in a double bill, except where noted. $5 for the second film only with no advance purchase. *Note: Purchase of a film ticket includes entrance to the galleries.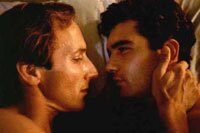 Friday, January 19 - Saturday, January 20
The New Beverly is screening a double header of two early Pedro Almodovar, Law of Desire and Matador, films, both of which star a young and ridiculously hunky Antonio Banderas.
WHEN: January 19 - 20
WHERE: The New Beverly, 7165 West Beverly Blvd., LA, CA 90036
ADMISSION: general $7.00; students with ID $6.00; seniors & kids $4.00.