LAst Night's Action: The Good, The Bad, The Ugly
LAist relies on your reader support, not paywalls.
Freely accessible local news is vital. Please power our reporters and help keep us independent with a donation today.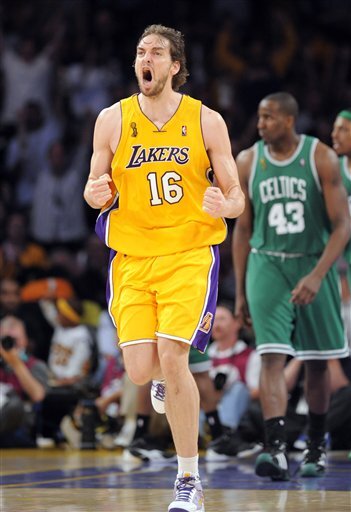 LA Lakers defeat Boston Celtics 87-81. What an ugly game. Pau Gasol was Ga-soft again. Lamar Odom sat on the bench with foul trouble most of the game. So leave it up to Sasha Vujacic to take up the slack. With 20 points he was the only Laker not named Kobe Bryant to score double-digits. The Lakers were more aggressive as perfectly shown by Jordan Farmar in the second quarter. After getting pushed by 6'11" PJ Brown going after a rebound, 6'2" Farmar got into Brown's face. The Lakers defense also did a good job holding Paul Pierce to only six points. MVP of game two Leon Powe had only one point, and although Kevin Garnett got 13 points he yet again retreated to the perimeter. The Lakers now trail the Celtics two games to one.
LA Dodgers defeat San Diego 7-2. It wasn't pretty, but at least the Dodgers scored some runs. Unfortunately for Clayton Kershaw it wasn't soon enough for him to get the win. The Dodgers blew the game open in the seventh due to some defensive blunders by the Padres. Rightfielder Brian Giles lost a line drive in the lights and Scott Hairston's and Justin Huber's miscommunication let a ball drop in the outfield in what should have been a one-two-three inning. And it's not a good sign when the manager uses four pitchers in an inning.
LA Angels defeat Tampa Bay Rays 6-1. Angel's starter Jered Weaver completely shut down the Ray's going eight innings and giving up only one run - a solo homer to Gabe Gross in the eighth inning. Meanwhile Garrett Anderson and Vladimir Guerrero each hit two-run homers in the first and fifth innings.