This is an archival story that predates current editorial management.
This archival content was written, edited, and published prior to LAist's acquisition by its current owner, Southern California Public Radio ("SCPR"). Content, such as language choice and subject matter, in archival articles therefore may not align with SCPR's current editorial standards. To learn more about those standards and why we make this distinction, please click here.
LAst Night's Action: The Good, The Bad, The Ugly
Our June member drive is live: protect this resource!
Right now, we need your help during our short June member drive to keep the local news you read here every day going. This has been a challenging year, but with your help, we can get one step closer to closing our budget gap. Today, put a dollar value on the trustworthy reporting you rely on all year long. We can't hold those in power accountable and uplift voices from the community without your partnership.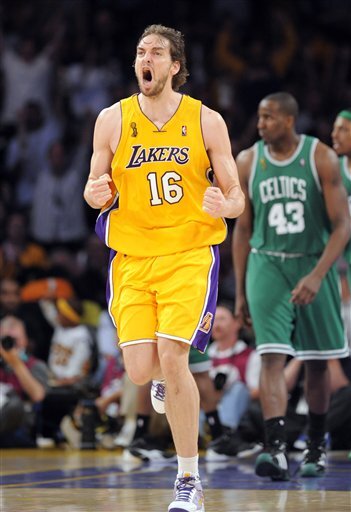 LA Lakers defeat Boston Celtics 87-81. What an ugly game. Pau Gasol was Ga-soft again. Lamar Odom sat on the bench with foul trouble most of the game. So leave it up to Sasha Vujacic to take up the slack. With 20 points he was the only Laker not named Kobe Bryant to score double-digits. The Lakers were more aggressive as perfectly shown by Jordan Farmar in the second quarter. After getting pushed by 6'11" PJ Brown going after a rebound, 6'2" Farmar got into Brown's face. The Lakers defense also did a good job holding Paul Pierce to only six points. MVP of game two Leon Powe had only one point, and although Kevin Garnett got 13 points he yet again retreated to the perimeter. The Lakers now trail the Celtics two games to one.
LA Dodgers defeat San Diego 7-2. It wasn't pretty, but at least the Dodgers scored some runs. Unfortunately for Clayton Kershaw it wasn't soon enough for him to get the win. The Dodgers blew the game open in the seventh due to some defensive blunders by the Padres. Rightfielder Brian Giles lost a line drive in the lights and Scott Hairston's and Justin Huber's miscommunication let a ball drop in the outfield in what should have been a one-two-three inning. And it's not a good sign when the manager uses four pitchers in an inning.
LA Angels defeat Tampa Bay Rays 6-1. Angel's starter Jered Weaver completely shut down the Ray's going eight innings and giving up only one run - a solo homer to Gabe Gross in the eighth inning. Meanwhile Garrett Anderson and Vladimir Guerrero each hit two-run homers in the first and fifth innings.
Notable News
As Zach reported earlier, the Kings fired head coach Marc Crawford Tuesday. Crawford came to the Kings in 2006 after the Kings cleaned house firing everyone who had a heartbeat. The youth movement that began with his tenure just hasn't taken hold yet. Previously Crawford coached the Colorado Avalanche to the Stanley Cup Championship in 1996 in their first season after their move from Quebec sweeping the Florida Panthers in the Finals.
UCLA guard Josh Shipp withdrew his name from the NBA draft. Shipp averaged 12 points a game this past season for the Bruins and has been part of the last three Bruins teams that have made it to the Final Four. Shipp waited until the final day for underclassmen to enter the draft and did not hire an agent giving him an out to come back to UCLA. With Shipp, Darren Collison and Alfred Aboya returning and the emergence of James Keefe, Chace Stanback and Michael Roll towards the end of the season, UCLA has a good chance of making it to four consecutive Final Fours.
Tonight's Action
LA Dodgers at San Diego Padres. Former teammates Chad Billingsley and Randy Wolf take the mound. 7:05 pm FSN Prime Ticket, AM 790 KABC.
Tampa Bay Rays at LA Angels. Scott Kazmir goes to the hill for the Rays against John Lackey. 12:35 pm FSN West, AM 830 KLAA.
AP Photo by Mark J. Terrill
Cruise off the highway and hit locally-known spots for some tasty bites.

Fentanyl and other drugs fuel record deaths among people experiencing homelessness in L.A. County. From 2019 to 2021, deaths jumped 70% to more than 2,200 in a single year.

This fungi isn't a "fun guy." Here's what to do if you spot or suspect mold in your home.

Donald Trump was a fading TV presence when the WGA strike put a dent in network schedules.

Edward Bronstein died in March 2020 while officers were forcibly taking a blood sample after his detention.

A hike can be a beautiful backdrop as you build your connection with someone.