LAst Night's Action: Dodgers Swept in Revenge
Stories like these are only possible with your help!
You have the power to keep local news strong for the coming months. Your financial support today keeps our reporters ready to meet the needs of our city. Thank you for investing in your community.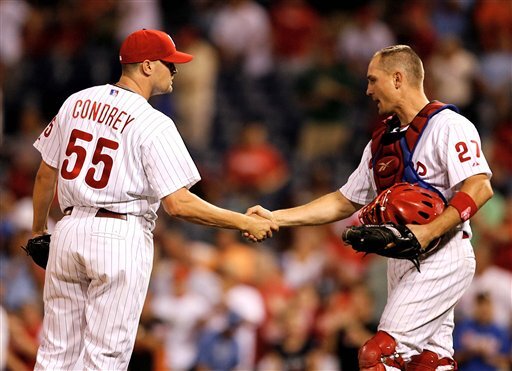 Phillies get the sweep. AP Photo/Tom Mihalek
Philadelphia Phillies defeat LA Dodgers 5-0. Figure this one out. The Dodgers outhit the Phillies 13-10 but can't score one stinking run. Really? Is this how a team plays when they're in the heat of a pennant race? Chad Billingsley was not sharp throwing 107 pitches in six innings but gave up only three runs despite the seven hits and three walks he gave up. Phillie's starter Brett Myers wasn't sharp either throwing 110 pitches in his seven innings of work giving up nine hits and three walks. But Myers did just enough to get out of jams and keep the Dodgers scoreless. The Phillies and the Dodgers become the first two teams in six years to exchange home sweeps involving four or more games in each series.
Oakland A's defeat LA Angels 2-1. The Angels offense hiccuped again. A's starter Dallas Braden went seven innings and gave up seven hits including a home run by catcher Mike Napoli for the lone run by the Angels, but despite the hits he only threw 82 pitches. Angel's starter Jered Weaver threw a great game going seven innings and giving up only two runs on three hits and two walks. The Angels had five hits in the first three innings but couldn't score because of bad base running. Scioscia. Not. Happy.
Notable Notes
With college football starting this week, let's take a peek at what Vegas has to say. USC is the odds on favorite to win the BCS Championship game at 3-1. Florida is at 5-1, Oklahoma is at 6-1 and #1 Georgia and Ohio State are at 8-1. UCLA, by the way, is off the board. If I were a betting man, I would play the over on Oregon State with 6.5 wins. As for actual games, UCLA is a touchdown underdog to Tennessee on Monday and USC is a 20-point favorite at Virginia.
Brett Favre maybe should've taken some advice from ex-Giant Michael Strahan on the art of retiring then changing your mind. Strahan is looking to go back to the New York Giants giving up his cushy job as an analyst on the NFL on Fox pregame show. With defensive end Osi Umenyiora out for the season with knee ligament damage the Giants are listening.
Tonight's Action
Oakland A's at LA Angels. The A's send Greg Smith (6-12, 3.75 ERA) to the mound against the amazing John Lackey (10-2, 3.09 ERA). 7:05 pm FSN West, AM 830 KLAA.
LA Dodgers at Washington Nationals. Derek Lowe (10-10, 3.89 ERA) gets the start for the Dodgers while the struggling Nationals send Collin Balester (2-6, 4.99 ERA) to the hill. 4:05 pm FSN Prime Ticket, AM 790 KABC.
Chivas USA at Tauro FC. Chivas makes their CONCACAF Champions League debut in Panana City in the preliminary round of the tournament. This marks the third match in six days for the injury-riddled Chivas team. 5:00 pm Galavision (live), 7:00 pm Fox Soccer Channel (tape delay).