LAist Armchair Quarterback Week 3: Get Rex Off the Field!!!!!
LAist relies on your reader support.
Your tax-deductible gift today powers our reporters and keeps us independent. We rely on you, our reader, not paywalls to stay funded because we believe important news and information should be freely accessible to all.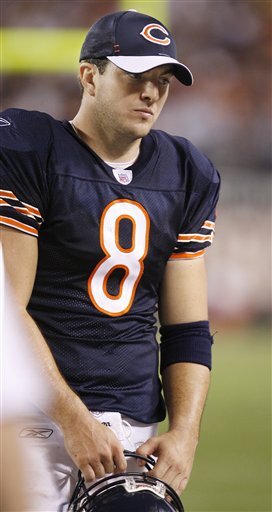 I'm a huge Chicago Bears fan, and my friends saw the terrible pain I was in watching the Superbowl this year. After that loss it pained to me to make the prediction that the Bears would be in a lot of trouble this season. The fact that it has come true makes me feel like I'm passing a kidney stone.
Just like Grady Little was obstinate in keeping Nomar Garciaparra at first base this season, Bears head coach Lovie Smith has stuck with Rex Grossman as starting quarterback. Despite all the botched snaps, fumbles, interceptions, passes to who-knows-whom and 0.0 passer ratings good ole Lovie stood by his man quarterback seemingly afraid to hurt his feelings.
Some commentators have said the following phrase, "Well Grossman took the Bears to the Superbowl." NO HE DIDN'T!!!! The Bears got to the final Sunday despite Rex Grossman.
Many times I have seen the Bears offense collapse with their faith in Grossman crushed. But in the Superbowl game and Sunday night's game against the Dallas Cowboys, I saw the Bears defense crushed in their faith in the quarterback.
Reportedly Lovie Smith will name the starting quarterback on Wednesday. If that name happens to be Rex Grossman, I'll be as high on the Bears as I am with the Dodgers right now.
NFL McNuggets!
Green Bay Packers over San Diego Chargers 31-24. Packer QB Brett Favre is now tied with Dan Marino with 420 touchdowns passes. Meanwhile the Chargers now have the same record as the Oakland Raiders. I wonder if Charger GM AJ Smith is now regretting firing Marty Schottenheimer.