This is an archival story that predates current editorial management.
This archival content was written, edited, and published prior to LAist's acquisition by its current owner, Southern California Public Radio ("SCPR"). Content, such as language choice and subject matter, in archival articles therefore may not align with SCPR's current editorial standards. To learn more about those standards and why we make this distinction, please click here.
LAist Armchair Quarterback Week 3: Get Rex Off the Field!!!!!
We need to hear from you.
Today during our spring member drive, put a dollar value on the trustworthy reporting you rely on all year long. The local news you read here every day is crafted for you, but right now, we need your help to keep it going. In these uncertain times, your support is even more important. We can't hold those in power accountable and uplift voices from the community without your partnership. Thank you.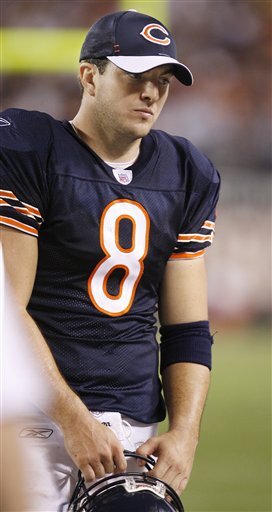 I'm a huge Chicago Bears fan, and my friends saw the terrible pain I was in watching the Superbowl this year. After that loss it pained to me to make the prediction that the Bears would be in a lot of trouble this season. The fact that it has come true makes me feel like I'm passing a kidney stone.
Just like Grady Little was obstinate in keeping Nomar Garciaparra at first base this season, Bears head coach Lovie Smith has stuck with Rex Grossman as starting quarterback. Despite all the botched snaps, fumbles, interceptions, passes to who-knows-whom and 0.0 passer ratings good ole Lovie stood by his man quarterback seemingly afraid to hurt his feelings.
Some commentators have said the following phrase, "Well Grossman took the Bears to the Superbowl." NO HE DIDN'T!!!! The Bears got to the final Sunday despite Rex Grossman.
Many times I have seen the Bears offense collapse with their faith in Grossman crushed. But in the Superbowl game and Sunday night's game against the Dallas Cowboys, I saw the Bears defense crushed in their faith in the quarterback.
Reportedly Lovie Smith will name the starting quarterback on Wednesday. If that name happens to be Rex Grossman, I'll be as high on the Bears as I am with the Dodgers right now.
NFL McNuggets!
Green Bay Packers over San Diego Chargers 31-24. Packer QB Brett Favre is now tied with Dan Marino with 420 touchdowns passes. Meanwhile the Chargers now have the same record as the Oakland Raiders. I wonder if Charger GM AJ Smith is now regretting firing Marty Schottenheimer.
Kansas City Chiefs over Minnesota Vikings 13-10. The Chiefs won a game? For reals?
New England Patriots over Buffalo Bills 38-7. This just isn't fair is it? Coincidentally this is the third consecutive game the Pats have scored 38 points.
New York Jets over Miami Dolphins 31-28. Jet QB Chad Pennington went 15-22 for 124 yards and two touchdowns. I wonder if Jet fans booed Pennington in his seven incompletions.
Philadelphia Eagles over Detroit Lions 56-21. As ugly as those uniforms were, if I were the Eagles I would wear those unis every week if they ensured 56 points. Fun fact: Lion QB Jon Kitna outpassed Eagle QB Donavon McNabb 446 yards to 381 yards.
Pittsburgh Steelers over San Francisco 49ers 37-16. The sign of a strong team is how they perform in the fourth quarter. While leading 17-9, the Steelers rattled off 20 points in the 4th while only allowing a touchdown.
Tampa Bay Buccaneers over St. Louis Rams 24-3. Whenever the Rams do badly I smile. You should've seen the grin I had after this game.
Baltimore Ravens over Arizona Cardinals 26-23. The Cardinals made it very interesting in the fourth quarter, but as usual they lost. By the way, aren't the Ravens supposed to be better than this?
Indianapolis Colts over Houston Texans 30-24. I came close to picking the Texans to win this game, but with leading receiver Andre Johnson out of the game with a sprained knee who were they kidding? But I wouldn't be surprised if the Texans make it to the playoffs this season.
Jacksonville Jaguars over Denver Broncos 23-14. I don't know how I had the foresight to pick this game correctly, but it happened.
Oakland Raiders over Cleveland Browns 26-24. How cute. The Raiders used the same time out strategy that cost them the game last week against the Broncos to win this game.
Seattle Seahawks over Cincinnati Bengals 24-21. One of the staff accountants at work told me he thought the Bengals would get to the Superbowl. I told him they had no chance since they had no defense. He said their offense would take care of business. Well their offense didn't do quite enough in this game, and their two-minute defense absolutely failed them.
Carolina Panthers over Atlanta Falcons 27-20. If this had been any other opponent the Panthers would have lost. But this being the Falcons. Well you know.
New York Giants over Washington Redskins 24-17. I left to go to our LAist cabal meeting during halftime of this game when the score was 17-3 with Washington on top. What the fuck happened?
Dallas Cowboys over Chicago Bears 34-10. It's sad when I pick against my team.
Tennessee Titans over New Orleans Saints 31-14. Now that's the Saints that we all know and love. And that's why I became a Bears fan when I was growing up in Louisiana back in the early 80s.
Top 5
1. New England Patriots (3-0). Although they look like they can go undefeated, they'll lose a game. Maybe.
2. Pittsburgh Steelers (3-0). They do it on offense. They do it on defense. First year head coach Mike Tomlin is making this coaching business look real easy.
3. Indianapolis Colts (3-0). The Colts keep on winning. Sometimes it's not pretty. Whatever gets the job done I suppose.
4. Green Bay Packers (3-0). Finally I can put an NFC team without guilt here. I'm putting the Packers above the Cowboys for the simple fact that the Packers won over better teams than the Cowboys.
5. Dallas Cowboys (3-0). Two NFC teams? The Cowboys looked awfully good against the Bears on Sunday. Their next test comes on October 14 at home against the Patriots. Terrell Owens vs. Randy Moss. That'll be a doozy.
Bottom 5
28. St. Louis Rams (0-3). What happened to the offense? What happened to Stephen Jackson? They can't play at home, they can't play on the road, they just can't play. Hehehe. I hope owner Georgia Frontiere is quite happy. That devil-cock-sucking-bitch-whore deserves as much.
29. New Orleans Saints (0-3). It didn't take long for them to reclaim their rightful place in the cellar. Their defense can't stop anyone, and the entire league has caught up with their offense. Unless head coach Sean Payton can come up with something fresh, the Aint's will be reborn.
30. Miami Dolphins (0-3). Have they found a replacement for Dan Marino yet?
31. Buffalo Bills (0-3). The Bills need to fire Dick Jauron. I have no idea what he's doing as a head coach in this league.
32. Atlanta Falcons (0-3). The Falcons snatched defeat from the jaws of victory against the Panthers on Sunday thanks to cornerback DeAngelo Hall. He had a 37-yard pass interference, a 15-yard unnecessary roughness and a 15-yard taunting calls against him in the final Panther touchdown drive that sealed the game.
AP Photo by Nam Y. Huh
It's been many, many years since we saw this much snow in our mountains. Going up there right now isn't safe, but here are some places where you can enjoy the view and snap a pic.

April Valentine died at Centinela Hospital. Her daughter was born by emergency C-section. She'd gone into the pregnancy with a plan, knowing Black mothers like herself were at higher risk.

A look at years past when snows creeped into our citified neighborhoods, away from the mountains and foothills.

In the face of a drier future, that iconic piece of Americana is on its way out in Southern California.

Bob Gregory, 62, went missing the same day as Sands. His body was recovered near Mount Islip.