This is an archival story that predates current editorial management.
This archival content was written, edited, and published prior to LAist's acquisition by its current owner, Southern California Public Radio ("SCPR"). Content, such as language choice and subject matter, in archival articles therefore may not align with SCPR's current editorial standards. To learn more about those standards and why we make this distinction, please click here.
Kiss SXSW Good-Bye
Before you read more...
Dear reader, we're asking you to help us keep local news available for all. Your tax-deductible financial support keeps our stories free to read, instead of hidden behind paywalls. We believe when reliable local reporting is widely available, the entire community benefits. Thank you for investing in your neighborhood.
Now that I have recovered from nine days and nights at SXSW, I can tell you that it's all downhill from here for the world's greatest music festival. No way could anything top that. 1750 bands and hardly any of them sucked. How does that happen?
Plenty of free food, beer, no lines if you had a badge. Stalwarts like The Stooges, Pete Townshend, Robyn Hitchcock, Public Enemy, Peter Case, Rickie Lee Jones, and Slash were there. And youngins like Lily Allen, Sondre Lerche, and Oreskaband were there too. Mere drops in the bucket in the perfect town for something like this, at the perfect time in the festival's growth, at an excellent time in music thanks to Myspace, blogs, and YouTube. Not to mention the best time in technology. When Amy Winehouse pushed her show back an hour, it was on Twitter immediately and those in the know were able to see the Naked Trucker's Iron Maiden cover band during that hour... or Bloc Party.
The venues were good about not letting too many people into the clubs, so there was plenty of room to stretch out and rarely were the beer lines an issue even in huge places like Stubbs.
Therefore something has to ruin this thing soon because it can't stay this perfect forever. Because it is perfect, you see.
After the jump check out just a few more pics from the festivities by Sonny I. LaVista.
Amy Winehouse at Eternal:

A fan of rock trying to see whats up at the Austinist + Gothamist sold out affair:

Austin band Blackaholics, winners of the LAist SXSW battle o bands at Room 710


Bloc Party at Stubbs

Austin's Finest with Northern Texas University seniors:


Just some of the thousands of concert posters at Flatstock

Jon Fratelli during an unplugged set in the back of the Fader House

Rocket at the LAist Party

Rocket posters were everywhere

Great Northern on 6th Street

Har Mar Superstar headlined the Dim Mak showcase:

Robyn Hitchcock and Peter Buck covered the Soft Boys

Slash covered AC/DC and others at the Red Bull House

SXSW version of the Red Carpet:

Best Dressed Couple, Music

Best Dressed Couple, Interactive

Japan Nite was Super Fantastic

Only about 50 people knew that the Drummer of the Melvins...

... had a new band called Porn.

Some of our favorite ladies:

Some of our favorite dudes: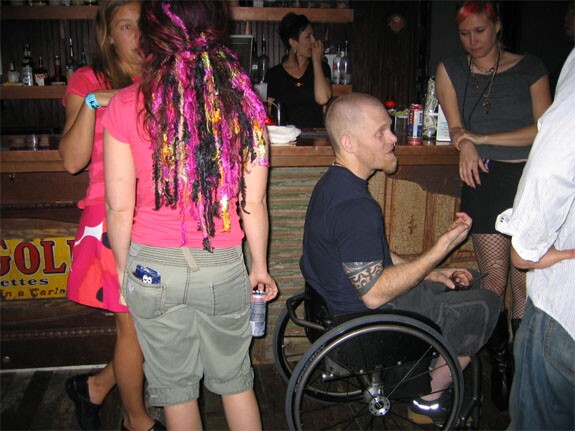 We'll miss you Austin,

You kicked our ass