Hollywood Fringe Festival: A Report to the Academy of A Report to an Academy
Stories like these are only possible with your help!
Your donation today keeps LAist independent, ready to meet the needs of our city, and paywall free. Thank you for your partnership, we can't do this without you.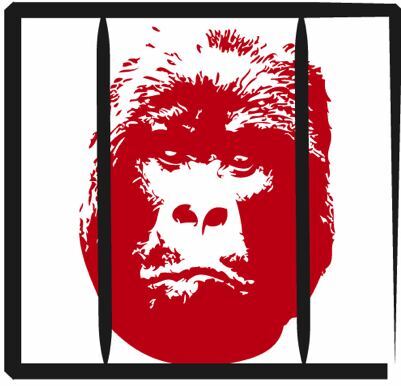 Frank Kafka's A Report to an Academy from American Theater Project
Mention of Franz Kafka seems to induce indignant literary banter that pits psychological introspection against sociological observation; evolutionary theory against ethical philosophy; and worst of all, pretentious mispronunciation of guttural German phrases. Thankfully, American Theater Project's stage-adaptation of Kafka's A Report to an Academy for the Hollywood Fringe Festival avoids engaging in the repulsive discourse of stubborn pseudo-intellectual vacuity and instead presents live proof that the work's main character, an ape nicknamed "Red," can only truly be understood when taken off of paper and brought to life on stage. Employing sound, geography, metaphoric texture, dark humor and kinetic drama, director Tom Draper gradually uncovers the zoo-or-stage dilemma that ultimately drives Red's post-capture survival story of tactful human imitation. While A Report to an Academy is a somewhat loose interpretation of the original short story, it is edited and updated with relevancy. Draper seduces metaphor off the stage, thrusting it into the lives of those who have come to bear witness to Red. It becomes evident that the audience is participating in a lingering transformative experience where they too are forced to choose between the zoo and the stage from the moment that they leave the demented disquiet of Hollywood & Highland to enter the burlesque-cloaked belly of the theatre. Once that choice has been made, the gentle sirenic undulations of lone guitarist Subliminal Jim (alluringly performed by Leon Khachooni) and the echoed whispers of Draper (playing Red's manager) ease the audience into the privileged discomfort of an uncontained, fragmented, and personified psyche-apparatus contained briefly within a single performance space.
David Robinette is completely engrossing as he glowers over his audience in role of Red -- he is consummate and it is easy to forget that he is not actually an albino ape impersonating civility through pangs of conscious Stockholm Syndrome. Robinette can artfully draw both sympathy and deep electric laughter from his audience with a single glazed glance or sarcastic punch line. He provocatively interprets Red as a tremor of revolted intensity; a pulse of memory; an unanswered coda cradled by the entranced rhythmic calling of his past wilder-freedom and the restrained summoning of his talent manager.
There are several other notable elements of this Hollywood Fringe production that deserve mention, such as the interplay between the gentlemanly and tuxedoed Red and the undeniable ape-stance supposed by his shadow against a simple white wall; the subversive stage chemistry between Robinette, Khachooni and Draper; their stylish finessing of Kafka's paradoxes; and the many questions and wonders that linger in the mind for days after seeing the various torments presented by ATP's A Report to an Academy. But to explicate them further would do a horrible disservice to affect-worthy viewers and the production itself. Theatregoers can experience Red in person at the Hollywood Film & Acting Academy; it's playing every day in Los Angeles until June 27.
A Report to an Academy @ Hollywood Film & Acting Academy, 1786 N. Highland Ave., Tickets: $12