Grand Guignolers de Paris
Stories like these are only possible with your help!
You have the power to keep local news strong for the coming months. Your financial support today keeps our reporters ready to meet the needs of our city. Thank you for investing in your community.
Sunday night I crept down an alleyway, drank a bunch of absinthe and watched a girl get her eyes gouged out with a knitting needle. The gouging wasn't real, but the absinthe was. Welcome to Los Angeles' theatre du Grand Guignol de Paris. The Grand Guignol was a theater in the Pigalle district, the seamy underbelly of Paris. The theater's focus varied slightly with shifts in management, but the subject matter of its short plays invariably involved horror, sex and madness. Comedies were interspersed between the dramas to release some of the tension. During its heyday in the early 1900s, women supposedly fainted at every performance. That may just be an Ed Wood-style publicity stunt. Of course, with those tight corsets, women used to faint just about any time they sat down (hence the chaise lounge). With the advent of World War II and its genuine horrors, the theater was rendered obsolete. But before its final death rattle in 1962, it had established a rhythm and style that would be the basis for the entire genre of horror films. In San Francisco, The Thrill Peddlershave been performing classic Grand Guignol and modern take-offs for well over a decade. Portland-based troupe The Tragedies, perform their interpretation of Grand Guignol every Halloween.
Debbie McMahon and Amanda Haney, two graduates of Dell'Arte International, are finally bringing Grand Guignol to Los Angeles. In true tradition, it is being presented in the seedy underbelly of Melrose, in a surprisingly tiny theater. The Grand Guignol Theatre in Paris is reputed to have been designed to encourage the feeling of claustrophobia. There is definitely a feeling that the performers are alarmingly near. I asked the gentleman sitting next to me, "Are we in the splash zone?" which caused a look of panic to wash over his face. Fortunately the horror focuses on a slow, Hitchcockian buildup of suspense rather than cheap tricks like splashing buckets of blood and grabbing at audience members. The Grand Guignolers' intent is to emphasize the skin-crawling horror of these original plays rather than the campy slapstick aspect. Still, the comic relief is definitely there. The comically drawn-out pauses leading up to the horrible climax of the final play is a genius trick of comic timing. I have often seen this kind of thing pulled by Lucille Ball, "But…wait! First…I have to make sure I know where her eyeballs ARE…" The tension builds until finally your inner voice is screaming, "Oh my God! Just gouge her eyeballs out already!" Which, I admit, is kind of an embarrassing thing to realize that your inner voice is screaming.
According to Wikipedia, the Grand Guignoler's website, and grandguignol.com, my other source of information for this article, Guignol was a Punch and Judy-type character used as a mouthpiece for political rants. "Grand guignol" means "big puppet". The Grand Guignolers de Paris' show had both big human puppets, and little puppet-puppets. The show was preceded by an absinthe demonstration, which I didn't bother rushing to attend because I figured I already know how to prepare absinthe. But it seems I missed out after all because the demo also involved a cute girl traipsing around in a green fairy costume.
The opening "act" is a short puppet show which segues into the life-sized puppet who is to be our Emcee, played by Debbie McMahon. She has those cute little dolly moues down pat, and is a skilled mime who can probably do the robot like nobody's business.
The first play, The Final Kiss, was written by Maurice Level. Expertly acted by Gary Karp and Amanda Haney, it relies heavily on the universal fear of medical procedures and a natural revulsion to open wounds before it leads up to its shocking conclusion.
Another puppet show is presented between the two plays. A little tiny program is distributed for the puppet's play, A Kiss Of Death. The 2" x 3" program cleverly and adorably contains performer photos and bios as well as acts ("There will be two five second intermissions."). The puppet play is presented by our grand puppet, Debbie McMahon. It's fantastic. How often do you get to see a puppet's arterial spray?
The final play, A Crime in a Madhouse, was written by the most famous of Grand Guignol playwrights, Andre de Lorde, and Alfred Binet. The two antagonists, Amy Vorpahl and Amanda Street, definitely steal the show with their off-the-wall antics and gleeful creepiness. But I was especially impressed by Tina Van Berckelaer's ability to stare off into space without breaking character for long periods of time. That is, of course, before I started silently crying out for them to gouge out her eyeballs.
The Grand Guignolers de Paris know how to show a girl a good time. I also have to thank them for encouraging the audience to dress in period cocktail dress. Where else am I ever going to get a chance to wear my blue velvet capelet? How I ended up owning not one, but three velvet capelets I'm not quite sure. My friend said my outfit made her expect Jack the Ripper to jump out and start slashing at me at any moment.
They say heaven is in the details, and besides the teensy little puppet show programs, the free samples of ABSINTHE perfume provided by Black Phoenix Alchemy Labwere a nice touch. Plus the little bake sale in back made it feel kind of homey, in that Our Gang, "Let's put on a show! My dad has a barn!" kind of way. But in spite of the meager surroundings and home-spun charm, there was nothing amateurish about the show. The acting was first-rate, and the lighting was both beautiful and spooky. With bare sets and simple clown-white make-up, they managed to draw the audience in and hold us rapt.
As I was walking one of my friends to her car, she complained, "I hate absinthe! It tastes like perfume."
I said, "It's supposed to taste like licorice." I suddenly had a bad feeling, "Show me what you drank" and she held out a fistful of empty perfume vials. "You drank the perfume?"
"It was perfume? Well, how am I supposed to know that? It SAID Absinthe on it."
"It also said 'Perfume'."
"It said 'Perfumes and Potions'. I thought it was the potion."
"Well, thank God you're not driving, because perfume is pure alcohol. You'd probably blow a 10 on a breathalizer." I turned to her friend who was driving, "…you didn't…"
"I only drank ONE."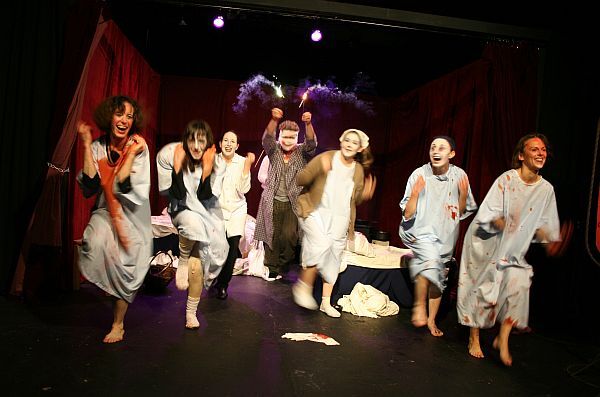 Friday and Saturday June 8th, 9th at 9pm
(Absinthe demo starts at 8:30)
$15 - $20 Pay what you can.
Moth * 4359 Melrose Ave. * Los Angeles, CA 90029
between Normandy and Vermont * next to laundromat north side of Melrose
right off the Melrose/Normandy exit of the 101 fwy
rear entry to the theatre
Street parking. No parking behind the theatre.
(How much do you love that it's all spooky, then it says "Next to the laundromat"?)
Program cover courtesy of Grand Guignolers de Paris
Photographs by Elise Thompson