This is an archival story that predates current editorial management.
This archival content was written, edited, and published prior to LAist's acquisition by its current owner, Southern California Public Radio ("SCPR"). Content, such as language choice and subject matter, in archival articles therefore may not align with SCPR's current editorial standards. To learn more about those standards and why we make this distinction, please click here.
Dodgers-Mariners LiveBlog 6/27/09
Before you read more...
Dear reader, we're asking you to help us keep local news available for all. Your tax-deductible financial support keeps our stories free to read, instead of hidden behind paywalls. We believe when reliable local reporting is widely available, the entire community benefits. Thank you for investing in your neighborhood.
The Dodgers could not figure out Mariners starter Felix Hernandez going down 5-1.
Hernandez was absolutely dominating pitching eight innings giving up only one unearned run on four hits and a walk. "We got his pitch count up early, and he took care of that because he got some quick innings," manager Joe Torre said of Hernandez's outing. "I thought we got some good at bats early on, and then it seemed that he got in a bit of a groove and it was much tougher."
It really did seem like the Dodgers would be able to get to Hernandez early on, but after the third inning he completely mowed down the Dodgers hitters. With the exception of the seventh inning, Hernandez threw a one-two-three inning after the third inning.
"He had our number today," centerfielder Matt Kemp said. "We don't have to face him anymore this year, so I'm pretty happy about that."
Meanwhile Dodgers starter Eric Milton didn't have a horrendous outing. He went five innings giving up four runs on seven hits including a two run homer to Ken Griffey, Jr. in the third inning, the 620th in his career.
"I thought he had some off speed pitches that just missed their spots, " Torre said of Milton's performance. "But the two run home run to Junior, that was really the thing that made it look like a bad outing. Other than that, it was two runs in five innings and it's certainly respectable and something we can fight back from."
"A loss is a loss to me," Milton said. "I'm not happy with it, but it's one of things where I have to turn the page and look forward to the next time I'm out there."
But with going only five innings, the concern for overuse of the bullpen once again crept in. However Torre dismissed it.
"There's no question that [James McDonald] gave us some quality innings there," Torre said. "The fact that we saved some people in the bullen, we're all right. We didn't spend a lot."
However one member of the bullpen got himself into some trouble after Friday's game. Ben Bolch and Kevin Baxter of the LA Times reported that Ronald Belisario was arrested on suspicion of drunk driving early Saturday morning. While Belisario couldn't comment on the story, Torre did talk to Belisario.
"We discussed it," Torre said. When asked whether Belisario would be able to pitch in the meantime Torre said, "I think so."
Meanwhile out in Lake Elsinore, Manny Ramirez hit a homer for Class A Inland Empire 66ers. Barring anything extraordinary happening, Ramirez will be back in the Dodger line up Friday in San Diego.
Final
5-1
Bottom of the 9thAfter Loney and Martin teased us with that double and walk, Kemp will let us down.
Ethier just teased us with that fly ball.
The Mariners bring in David Aardsma to pitch. So after eight innings the Dodgers finally get to the Mariners bullpen.
Top of the 9thBrent Leach really knows how to make things stomach churning. But Matt Kemp makes a good catch at the wall.
Can you imagine the riots that would have gone down if Beltre homered?
5-1
Man that homer went far. It's Branyan's 19th homer of the season.
Oh wow. Ichiro fouled out. Now they'll talk about it until we all go home.
Brent Leach is now in to pitch. After some growing pains, he's really come on. Now given my recent history about commenting on pitchers, he's going to give up two grand slams to Fernando Tatis. Oh wait. Tatis is with the Mets. Nevermind.
Bottom of the 8thFor as much as the rumors have been circulating about Mariners starter Jerrod Washburn coming to the Dodgers, it would have been nice to see him start during this series.
The crowd is getting behind the Dodgers which is very nice. Hernandez has thrown 105 pitches through seven innings so far.
Top of the 8thTonight's attendance: 50,847. And they're playing "Don't Stop Believin'". Best quote: "Not this fucking song again."
So King Felix is hittiing for himself. Does this mean they want him to throw a complete game? The Dodgers haven't made a dent into the bullpen yet.
I know this has been said before, but Casey Blake is a good fielding third baseman.
Bottom of the 7thJust a note to people worried about my urinary habits here in the press box. I haven't had to use the bathroom yet. This is a first.
And Jones flies out to center.
Mitch Jones in to pinch hit for McDonald. After that bloop single by Kemp these Japanese journalists next to me will spend the next half inning discussing how Ichiro should have fielded that ball. They dedicated a whole inning to that error earlier in the game.
How come no one told me that the Indians traded Mark DeRosa to the Cardinals? Let the firesale begin!
What about "Satan Bless America"? Or "Krishna Bless America"?
Top of the 7thYou know, I hate the song "God Bless America". Why should I be obligated to stand up when I don't believe in God?
fadsssssssssssssssergtttttttttttttttttttttttt. Oops. I fell asleep.
Branyan just got under that home run ball. If I weren't watching the game, from the sound I would have guessed it was a home run.
Three hits by Ichiro tonight. He's a very pretty man. I don't know whether that's a good thing or not.
Bottom of the 6thThis game got boring real fast. Can someone strip for me now?
For a while there it sounded like Blake's entrance music was Dream Theater. I am not ashamed in the fact that I owned a Dream Theater album in high school.
Top of the 6thSo McDonald threw 17 pitches to get the side out giving up only one hit. Mind you nine of those went to the ground out hit by Johnson. Not too bad.
It took nine pitches for McDonald to get Johnson out. TOUCH ME I'M SICK!
For some reason I have Mudhoney's "Touch Me I'm Sick" stuck in my head right now. Ah Mudhoney. The good ole days.
Ok. James McDonald is in to pitch. Let's see what happens here.
Bottom of the 5thThis is the second wave the Dodger fans have started. It's very hard to concentrate when I'm hearing the wave, watching the game, listening to Milton's pitching line and Phil Hendrie talking about the governor of South Carolina.
Brad Ausmus is in to pinch hit for Milton. Milton's day is done. I would say he did an all right job. Could have been much worse.
Top of the 5thAnother easy inning for Milton. I think I'm starting to feel a nap coming on again.
Um. I stopped taking score. I think at some point I will be screwed.
Bottom of the 4thWow. An eight-pitch inning for Hernandez. Way to make him work Dodgers.
The Dodgers could maybe take a pitch or two. Maybe?
Top of the 4thThe bottom of the order for the Mariners do not give Milton any problems. The seven, eight and nine hitters are 0-fer against Milton. Milton has an easy inning.
Bottom of the 3rdThat's the second error by Ichiro this year.
4-1
And with that, it's an error on Ichiro. No hit or RBI for Blake.
Q: Why is Casey Blake with all those women (in the pictures shown at Dodger Stadium)?
A: It's the beard!
Oh man that hit-and-run again! This time it got Cedeno to pull towards second. And that vacated space is exactly where Hudson hit the ball too. Beautiful!
Very good attempt by Ronny Cedeno to get Furcal out, but Furcal was a step or two ahead.
Top of the 3rdI was really hoping for a double.
Just a note, Milton is a double short of giving up a cycle in this inning. James McDonald is warming in the pen.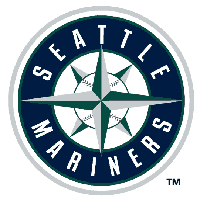 4-0
Ninth homer for the Kid this season, 620th overall.
I have to say it is crowded here in the press box today. I feel squashed in by the Japanese media. I wonder if it will be like this next week in San Diego? If so, I'm going to have to get my grumpy on.
Something got in Loney's eye. Being the teammate that he is, Hudson is holding Loney's eyelid open. I wonder if he screamed like Kemp did after the NLCS when he got champagne in his eyes.
2-0
Another ball that was misplayed off the wall by Ethier. This time Branyan made sure it was a triple.
Ok. Russell Branyan is starting to piss me off with all his calling for time. Remember he used to be a Padre. 'Nuf said.
Matt Kemp just missed the line drive by Ichiro. Damn Ichiro is good.
Bottom of the 2ndThis inning has gone by very quickly. After waving for Ken Levine's daughter, we're now talking about painkillers and MJ.
Top of the 2ndBTW, the Dodgers are 11-14 when the opponent scores first. Keep that in mind.
Milton did a good job of getting out of some trouble allowing only one run to score.
King Felix has a swing that tries to mimic his fastball. Too bad he can't hit. And that change up Milton threw for strike two really fooled him.
I'm having a hard time getting these updates posted. I don't know whether it's the server or the data connection here in the press box.
1-0
Franklin Gutierrez took a spill going to third on what should have been a triple. He looks all right, just a little embarrassed. But he does get an RBI.
Bottom of the 1stNancy Bea is playing Wham's "Wake Me Up before You Go Go" on the organ. All of the sudden I feel like wearing pink daisy dukes.
King Felix is having some problems now after dealing so well for the first three batters. In his first ten pitches he threw one ball.
Ethier is getting a hero's welcome here at the stadium. After a three homer game it is well deserved.
Ah a nicely executed hit-and-run with Furcal running and Hudson hitting. It brings a tear to my eye to see it work nicely.
While we're introducing things, Dodgers reliever Ronald Belisario was arrested on suspicion of drunk driving early this morning. He is here at the ballpark today.
Juan Pierre hits that fly ball to right. Apparently he hit one that went out of the stadium during batting practice. Unfortunately I was in the dugout with my recorder to Torre's mug when that happened.
Top of the 1stLet me take that back. He caught the Kid looking. Not a bad start for Milton. Gave up the double to Ichiro but struck out two and threw only 15 pitches, 10 for strikes. Good start. But as Torre said, the inning to watch out for him is the sixth. Let's see how he progresses.
It looks like Milton wants nothing of kid Griffey.
Matt Kemp is a G. That was a great jumping catch at the wall in dead center field off of Beltre's fly ball. It kept Ichiro on second.
Beltre got roundly booed by the Dodger faithful. I remember in 2004 chanting MVP when he would come to bat.
Ichiro's double on the second pitch gives him a 10-game hitting streak. That's a g.
Just a note before we get this started, Adrian Beltre will undergo surgery to remove bone spurs in his non-throwing shoulder. Tonight will be the last game he'll play in for a while. Apparently the pain has been too much.
0-0

Clayton Kershaw pitching Friday night against the Seattle Mariners. AP Photo/Hector Mata
The Dodgers come into tonight's game having had a spectacular offensive night for right fielder Andre Ethier in the Dodger's 8-2 victory. Last night he became the first Dodger since Hee-Seop Choi in 2005 to hit three homers in a game.
Overshadowed in that offensive explosion was starting pitcher's Clayton Kershaw's brilliant outing. Kershaw went six innings giving up only two runs on five hits and one walk while striking out eight.
"The thing we've seen different here lately is the first few innings have been really good," Torre said. "I saw a lot of good curve balls last night, but it just looked like he was more in control early as opposed to just rearing back and muscling up."
For tonight's game the Dodgers will bring back Eric Milton to make his first start since going on the disabled list three weeks ago with a strained lower back. Perhaps to draw on inspiration in the clubhouse, Milton watched the last inning of Nolan Ryan's no hitter against the Toronto Blue Jays on May 1, 1991 that was airing on MLB Network.
"[Milton's] had a couple of starts where he's won ballgames where that sixth inning was a problem for him," Torre commented. "But we'll certainly look at it that point in time. A lot of it depends on how is command is early. He's all about command, he's not going to overpower anybody. The starts he's had where he's been successful he used both sides of the plate really well."
In order to make room for Milton the Dodgers sent down reliever Cory Wade to the minors.
"[Wade] has been inconsistent," Torre said. "He's the guy we trusted last year in the eighth inning. He just needs to go back and be able to use both sides of the plate and be more effective."
The lineups for the game:
Seattle Mariners
Ichiro Suzuki, RF
Russell Branyan, 1B
Adrian Beltre, 3B
Ken Griffey, Jr., LF
Jose Lopez, 2B
Franklin Gutierrez, CF
Rob Johnson, C
Ronny Cedeno, SS
Felix Hernandez, P
LA Dodgers
Juan Pierre, LF
Rafael Furcal, SS
Orlando Hudson, 2B
Casey Blake, 3B
Andre Ethier, RF
James Loney, 1B
Russell Martin, C
Matt Kemp, CF
Eric Milton, P