This is an archival story that predates current editorial management.
This archival content was written, edited, and published prior to LAist's acquisition by its current owner, Southern California Public Radio ("SCPR"). Content, such as language choice and subject matter, in archival articles therefore may not align with SCPR's current editorial standards. To learn more about those standards and why we make this distinction, please click here.
CTG Reaches Out to a New Kind of Audience with Clay
We need to hear from you.
Today during our spring member drive, put a dollar value on the trustworthy reporting you rely on all year long. The local news you read here every day is crafted for you, but right now, we need your help to keep it going. In these uncertain times, your support is even more important. We can't hold those in power accountable and uplift voices from the community without your partnership. Thank you.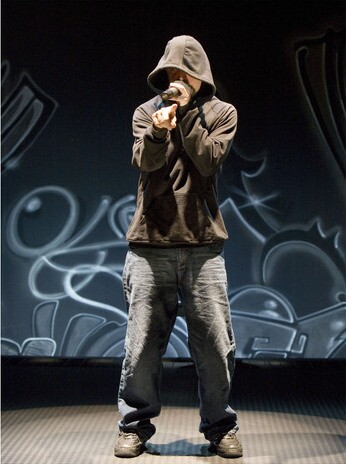 One part Greek tragedy, one part Shakespeare's Henry IV, one part hip-hop concert Clay, a one man show written and performed by Matt Sax and directed by Eric Rosen, rocks the Kirk Douglas Theatre.
Chronicling the life of a young man who "comes of age through the theatricality of hip hop", Clay has an unexpectedly moving quality about it. Raised in what can only be described as suburban hell, Clay's lead character, Clifford, is deeply affected by the divorce of his parents when he is ten years old. After having been forced to choose whether to live with his chain-smoking, mild mannered mother or his absent and volatile father, Clifford ends up carrying out the last six years of his relationship with his mother via the telephone. When his mother dies and his father remarries shortly thereafter, Clifford is further confronted with the emotional turmoil of his dysfunctional family life.
This life is turned completely on its head when Clifford makes the acquaintance of Sir John, a bookstore owner and storefront-rapper who, like Henry IV's Sir John Falstaff, takes the young man under his wing, teaching him the ways of the hip-hop world.
From the start, Sir John pushes Clifford to transcend beyond rapping about "bitches" and "hos" and truly delving into the darkness of his own past. And boy, is it dark.
Deftly imitating the Greek myth of Phaedra and her stepson Hippolytus, Clifford and his father's beautiful young second wife begin an affair. Needless to say, when he learns their transgression Clifford's father sends the young man out on his ear, forcing Clifford to start over once again.
Fortunately, this time Clifford finds a more suitable father figure. Sir John takes Clifford in and guides him on the path to becoming rap superstar Clay, reminding him all along that in hip-hop "the only truthfulness is the truth found within yourself".
Clay is the work of Northwestern grad Matt Sax who, before coming to L.A., premiered the solo performance piece at the Edinburgh Fringe Fest in 2004 and later in Chicago with the support of the Lookingglass Theatre Company and About Face Theatre Company.
In a similar vein to the pioneering performances of Danny Hoch, Sax is an equally unexpected hip-hop star. In Clay, Clifford's father's disbelief when he first learns of his son's new hobby is similar to what most audience members must have been thinking when they first saw Matt Sax take the stage. "What are you, Snoop Doggenstein?" Clifford's father asks.
In truth, despite his background Sax is the real deal not only as hip-hop artist, but also as an actor. When I bumped into CTG's Artistic Director, Michael Ritchie outside of the theatre following the show, he was quick to describe Sax as a "phenomenal talent."
Indeed, Sax molds his body, his voice, and his very essence depending on which of the show's five characters he is embodying. Clearly, Sax knows the secret to a successful solo performance: making it seem like there is more than one person onstage at any given time. Sax handedly accomplishes this feat, deeply and truthfully connecting to each one of his characters.
Despite its tragic undertones Clay is a lot of fun, even if you're not a big hip-hop fan. Sax clearly states as the show's opening that it's okay if you don't catch all the words, he just wants to you to "come along for the tragedy."
This opening qualifier may mark the beginning of a new effort by the Center Theatre Group to reach out to a different type of theatre crowd; young, urban and current. Indeed, with most of the night seeming like one big Kanye concert, one has to wonder just how well tickets to Clay will sell, especially considering that most L.A. Theatre goers are not of the hip-hop generation. When I asked this question of Michael Ritchie after the show he indicated that it was absolutely a consideration for CTG but that surprisingly Kirk Douglas subscribers are "getting it. They're not walking out."
And so, just as Sax states in the show's opening scene, it certainly appears that through Clay "hip-hop will prevail."
Clay runs at the Kirk Douglas Theatre in Culver City until October 14th. Tickets are available online at www.centretheatregroup.org/tickets or by calling 213-628-2772.

Photo Credit Craig Schwartz
But Yeoh is the first to publicly identify as Asian. We take a look at Oberon's complicated path in Hollywood.

His latest solo exhibition is titled "Flutterluster," showing at Los Angeles gallery Matter Studio. It features large works that incorporate what Huss describes as a "fluttering line" that he's been playing with ever since he was a child — going on 50 years.

It's set to open by mid-to-late February.

The new Orange County Museum of Art opens its doors to the public on Oct. 8.

Cosplayers will be holding court once again and taking photos with onlookers at the con.

Littlefeather recalls an "incensed" John Wayne having to be restrained from assaulting her and being threatened with arrest if she read the long speech Brando sent with her.