CTG Reaches Out to a New Kind of Audience with Clay
LAist relies on your reader support.
Your tax-deductible gift today powers our reporters and keeps us independent. We rely on you, our reader, not paywalls to stay funded because we believe important news and information should be freely accessible to all.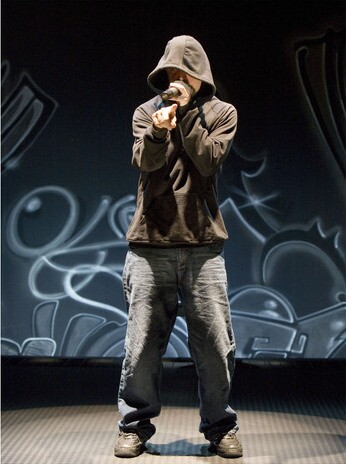 One part Greek tragedy, one part Shakespeare's Henry IV, one part hip-hop concert Clay, a one man show written and performed by Matt Sax and directed by Eric Rosen, rocks the Kirk Douglas Theatre.
Chronicling the life of a young man who "comes of age through the theatricality of hip hop", Clay has an unexpectedly moving quality about it. Raised in what can only be described as suburban hell, Clay's lead character, Clifford, is deeply affected by the divorce of his parents when he is ten years old. After having been forced to choose whether to live with his chain-smoking, mild mannered mother or his absent and volatile father, Clifford ends up carrying out the last six years of his relationship with his mother via the telephone. When his mother dies and his father remarries shortly thereafter, Clifford is further confronted with the emotional turmoil of his dysfunctional family life.
This life is turned completely on its head when Clifford makes the acquaintance of Sir John, a bookstore owner and storefront-rapper who, like Henry IV's Sir John Falstaff, takes the young man under his wing, teaching him the ways of the hip-hop world.
From the start, Sir John pushes Clifford to transcend beyond rapping about "bitches" and "hos" and truly delving into the darkness of his own past. And boy, is it dark.
Deftly imitating the Greek myth of Phaedra and her stepson Hippolytus, Clifford and his father's beautiful young second wife begin an affair. Needless to say, when he learns their transgression Clifford's father sends the young man out on his ear, forcing Clifford to start over once again.