This is an archival story that predates current editorial management.
This archival content was written, edited, and published prior to LAist's acquisition by its current owner, Southern California Public Radio ("SCPR"). Content, such as language choice and subject matter, in archival articles therefore may not align with SCPR's current editorial standards. To learn more about those standards and why we make this distinction, please click here.
College Football Week 4 Recap: The Rise of the Big East
We need to hear from you.
Today during our spring member drive, put a dollar value on the trustworthy reporting you rely on all year long. The local news you read here every day is crafted for you, but right now, we need your help to keep it going. In these uncertain times, your support is even more important. We can't hold those in power accountable and uplift voices from the community without your partnership. Thank you.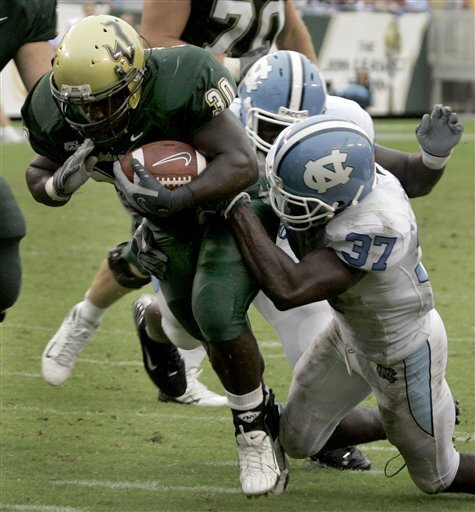 Back in 2004 when both the University of Miami (FL) and Virginia Tech defected to the ACC from the Big East conference (and Boston College the following year), critics around the country proclaimed the Big East to be a dead football conference. The Big East had the threat of losing their BCS conference status especially after they added Louisville, Cincinnati and South Florida to their ranks.
What a difference several years make. While the Big East isn't seen as a football powerhouse, they are no longer seen as a joke with West Virginia, Rutgers, Cincinnati and South Florida ranked in the AP poll and West Virginia seen as having a shot to play for a national championship The ACC on the other hand is now the weak conference especially after the traditional laughing stock Wake Forest team ended up winning the conference last season.
Perhaps the biggest story in all of this is the quick rise of the South Florida football team. The Bulls did not have a football team until 1997 when they played in Division I-AA. They started competing in Division I-A in 2001 as an independent, moved to Conference USA in 2003 and finally the Big East in 2005. They vaulted into the AP Top 25 rankings for the first time last week after an upset win over Auburn.
Notable Games
Miami (FL) Hurricanes over #20 Texas A&M Aggies 34-17. The Aggies were supposed to run through the Hurricane defense with their average 46.3 points scored per game. They had prepared specifically for this game during spring practice, so they should have prevailed right? The Hurricane defense thought otherwise and shut the Aggies offense for three quarters, three minutes and 20 seconds while rolling up 34 points. Coach Randy Shannon has the Hurricanes back on the rise.
Syracuse Orangemen over #18 Louisville Cardinals 38-35. This is an upset of unprecedented proportions, even bigger than Appalachian State over Michigan. Syracuse is an awful team that App State could whip on in a heart beat. So how did the Louisville offense that averaged 50 points going into the game get held to only seven points by halftime? Seeing how average this Cardinals team is and how awful the NFL Falcons are, maybe Falcon head coach Bobby Petrino will agree to come back to Louisville. And I just got through praising the Big East!
#21 Kentucky Wildcats over Arkansas Razorbacks 42-29. Long known as a basketball powerhouse, they upset Louisville last week to gain some football credibility. So this game was important to the Wildcats to prove they could compete in the SEC. While Arkansas is not a good team by any stretch of the imagination (making last season look like a complete fluke), they showed they have the fortitude to come back from a 29-21 deficit. Watch them make a bid to upset LSU and Florida at home later this season.
LAist's Homo Top 15 Rankings
1. LSU (4-0, 2-0, 1)
2. USC (3-0, 1-0, 2)
3. Oklahoma (4-0, 0-0, 4)
4. Florida (4-0, 2-0, 3)
5. West Virginia (4-0, 0-0, 5)
6. California (4-0, 1-0, 8)
7. Texas (4-0, 0-0, 6)
8. Ohio State (4-0, 1-0, 10)
9. Rutgers (3-0, 0-0, 9)
10. Oregon (4-0, 1-0, 12)
11. Wisconsin (4-0, 1-0, 7)
12. Clemson (4-0, 2-0, 14)
13. Boston College (4-0, 3-0, 15)
14. Georgia (3-1, 1-1, not ranked)
15. Hawaii (4-0, 1-0, not ranked)
Yes I still have LSU as #1 although USC has bridged the gap a lot. I dropped Wisconsin a lot because not only did they struggle against UNLV last week, they had a hard time with Iowa this week. That does not bode well for them as they get into the meat of their Big 10 schedule. The #15 spot was a toss up between Hawaii, Virginia Tech and South Florida for me, so I settled with Hawaii mostly because of their potent offense. Penn State and South Carolina dropped out of the top 15.
AP Photo by Chris O'Meara
It's been many, many years since we saw this much snow in our mountains. Going up there right now isn't safe, but here are some places where you can enjoy the view and snap a pic.

April Valentine died at Centinela Hospital. Her daughter was born by emergency C-section. She'd gone into the pregnancy with a plan, knowing Black mothers like herself were at higher risk.

A look at years past when snows creeped into our citified neighborhoods, away from the mountains and foothills.

In the face of a drier future, that iconic piece of Americana is on its way out in Southern California.

Bob Gregory, 62, went missing the same day as Sands. His body was recovered near Mount Islip.