LAist relies on your reader support, not paywalls.
Freely accessible local news is vital. Please power our reporters and help keep us independent with a donation today.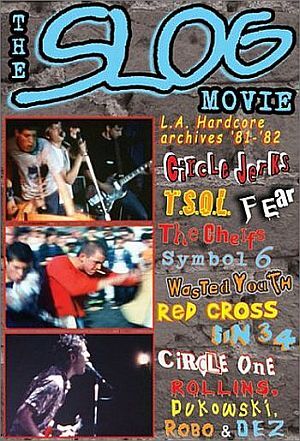 Have a beer with Fear! Slam at the Cuckoo's Nest! Grab an Oki Dog with Pat Smear!
Thursday night at 7:30 pm., The Silver Lake Film Festival will be screening Dave Markey's seminal punk rock film, The Slog Movie.
The Slog movie isn't an outsider's documentary of punk rock as a movement. It isn't a bunch of grainy, archived clips edited into interviews with punk rock legends reminiscing about the Masque. When you are watching the Slog movie, you are literally looking through the eyes of Dave Markey, teenage punker - seeing everything he saw, and hearing everything he heard. Markey came of age in the 80s, along with LA's hardcore punk scene. He played drums in Sin 34, and co-founded fanzine and record label "We Got Power!" with Jordan Schwartz.
The movie was shot on Super-8 over a period of two years, 1981 and 1982. It includes early live footage of the Circle Jerks, Redd Kross, and Circle One, among countless other Los Angeles punk bands.