This is an archival story that predates current editorial management.
This archival content was written, edited, and published prior to LAist's acquisition by its current owner, Southern California Public Radio ("SCPR"). Content, such as language choice and subject matter, in archival articles therefore may not align with SCPR's current editorial standards. To learn more about those standards and why we make this distinction, please click here.
Be There or be a Poseur!
Our June member drive is live: protect this resource!
Right now, we need your help during our short June member drive to keep the local news you read here every day going. This has been a challenging year, but with your help, we can get one step closer to closing our budget gap. Today, put a dollar value on the trustworthy reporting you rely on all year long. We can't hold those in power accountable and uplift voices from the community without your partnership.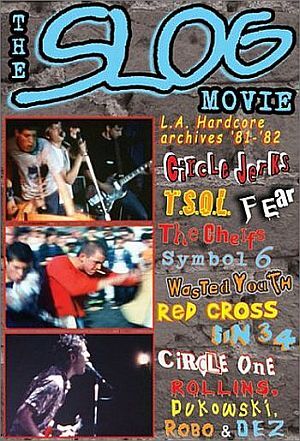 Have a beer with Fear! Slam at the Cuckoo's Nest! Grab an Oki Dog with Pat Smear!
Thursday night at 7:30 pm., The Silver Lake Film Festival will be screening Dave Markey's seminal punk rock film, The Slog Movie.
The Slog movie isn't an outsider's documentary of punk rock as a movement. It isn't a bunch of grainy, archived clips edited into interviews with punk rock legends reminiscing about the Masque. When you are watching the Slog movie, you are literally looking through the eyes of Dave Markey, teenage punker - seeing everything he saw, and hearing everything he heard. Markey came of age in the 80s, along with LA's hardcore punk scene. He played drums in Sin 34, and co-founded fanzine and record label "We Got Power!" with Jordan Schwartz.
The movie was shot on Super-8 over a period of two years, 1981 and 1982. It includes early live footage of the Circle Jerks, Redd Kross, and Circle One, among countless other Los Angeles punk bands.
The Slog Movie is the world of punk rock as seen by Dave Markey, as he lived it. The film jumps between slampits, tour footage, trips to McDonalds, watching TV, and just wandering around the neighborhood. Dave Markey's channel-flipping editing style predates and predicts the quick-cut sensibility of "Natural Born Killers".
If you were there, this movie will make you re-live it. If you weren't there, this movie is the closest you're ever going to get. The Slog Movie both poses and and answers the question, "How long do you think punk rock is gonna last?" "Forever."
The Slog Movie 7:30pm. Thursday, May 3, 2007
The EchoPlex 1822 W Sunset Blvd Echo Park, CA 90026 Phone: 213-413-8200
Afterwards, slam the night away with the newly reunited Circle Jerks. This isn't some lounge-y version of "When the Shit Hits the Fan." The Circle Jerks do not phone anything in. Keith will rock your ass off until he collapses. This is a show that is not to be missed. The Musicfest at the Echoplex with Circle Jerks and 400 Blows.
10pm. Thursday, May 3, 2007
The EchoPlex 1822 W Sunset Blvd Echo Park, CA 90026 Phone: 213-413-8200
The Silver lake Film Fest requires the purchase of a separate ticket for "Opening Night" in order to attend the Circle Jerks show. Keith Morris will be presented with the Music Visionary Award at the event.
There is a "MusicFest One Day Pass" available for 20 dollars or a "MusicFest Pass" which is good for the entire festival for 300 dollars (Passes are 150. for "industry"). The MusicFest pass appears to include both events.
From the Silver Lake Film Festival's somewhat confusing website:
MUSICFEST ONE DAY PASS
Access to festival lounge, MusicFest live music events, Music docs and mocks program and whatever else happens on that day! Note to all Festival, MusicFest and Panels Pass badge holders, including Filmmakers, the Press and Industry VIPS: Tickets are available on a first-come, first-serve basis. Pass holders can obtain tickets at the venue where each event takes place starting 30 minutes before the presentation. The one day pass is available for one day of the festival. Passes must be picked up at our Central Box Office, located at 4475 Sunset Drive (intersection of Sunset Blvd & Hillhurst Ave, next to the Vista Theater) Mon-Fri, 5-10pm and Sat-Sun, 2-10pm.
http://www.silverlakefilmfestival.org/
"The Slog Movie" artwork courtesy of Dave Markey. Keith Morris photo by Elise Thompson.
Donald Trump was a fading TV presence when the WGA strike put a dent in network schedules.

Pickets are being held outside at movie and TV studios across the city

For some critics, this feels less like a momentous departure and more like a footnote.

Disneyland's famous "Fantasmic!" show came to a sudden end when its 45-foot animatronic dragon — Maleficent — burst into flames.

Leads Ali Wong and Steven Yeun issue a joint statement along with show creator Lee Sung Jin.

Every two years, Desert X presents site-specific outdoor installations throughout the Coachella Valley. Two Los Angeles artists have new work on display.