Andy Summers Sets Aside Guitar and Camera to Sign New Book
Stories like these are only possible with your help!
Your donation today keeps LAist independent, ready to meet the needs of our city, and paywall free. Thank you for your partnership, we can't do this without you.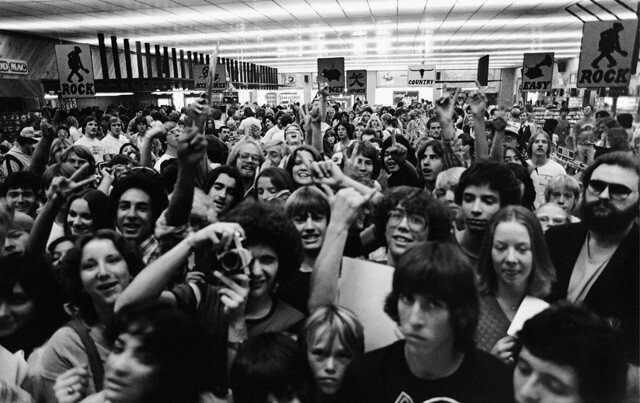 Amoeba was not quite as crowded last night for Andy Summers' "I'll Be Watching You: Inside The Police 1980-83" book signing as was the Austin record store that the photographer, author, and erst-while guitarist for The Police captured in B/W from the set of a 1980 in-store appearance.
But Summers was kept busy for over two hours signing copies of the impressive, nearly 400-page photo-diary scrapbook for adoring fans. Summers' artistry is clearly not limited to the six string ax. His photography has been exhibited at galleries worldwide (including last summer at Santa Monica's Frank Pictures Gallery) and it appears that this 600-photo tome covering three years in a rock n' roll band may be the first of many volumes.
Soon after finishing this book, The Police announced their first tour dates in two decades and Summers was off once again with camera in hand -- first shooting digital black and white before returning to his Leica. His assistants estimate that hundreds of rolls have been added to Summers' already burgeoning, and highly organized archive of negatives.
The high point of last night's signing was the auction benefiting WaterAid that we mentioned yesterday. One of Summers' framed photographs (this one) was snapped up by a MAJOR Police fan for $1,600. And Amoeba -- yes, this record store is for real -- MATCHED the donation.
Photos of Andy Summers last night at Amoeba Records after the jump.
Above photo from from I'll Be Watching You: Inside the Police 1980 - 83
Copyright: Andy Summers, courtesy of TASCHEN
Caption: Fans at an 'in-store', Austin, Texas, 1980
In-Store photos by Rob Takata and Andy Sternberg for LAist.