7 Days to the Oscars: Street & Sidewalk Closures
LAist relies on your reader support, not paywalls.
Freely accessible local news is vital. Please power our reporters and help keep us independent with a donation today.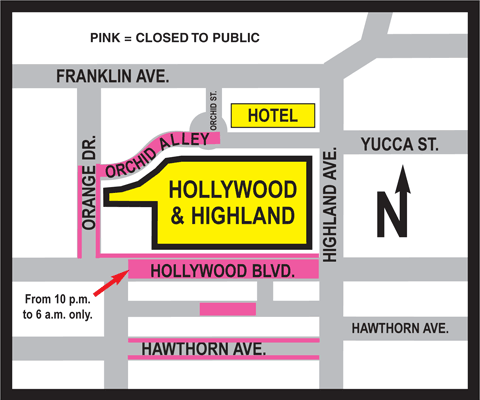 If only all festivals and projects could be as clear and consice about communicating this kind of information to the public. The Academy of Motion Pictures of Arts & Sciences has a webpage dedicated to just this.
Tomorrow's closures only take effect starting at 10 p.m., but being a holiday three-day weekend, Hollywood should be busier than usual for a Sunday. The pink on the map signifies the closures, but one should take note that while the sidewalks are "pinked," there will be 8 feet of pedestrian access.
Full details can be found here.