This is an archival story that predates current editorial management.
This archival content was written, edited, and published prior to LAist's acquisition by its current owner, Southern California Public Radio ("SCPR"). Content, such as language choice and subject matter, in archival articles therefore may not align with SCPR's current editorial standards. To learn more about those standards and why we make this distinction, please click here.
Downtown Larry Brown
Support your source for local news!
The local news you read here every day is crafted for you, but right now, we need your help to keep it going. In these uncertain times, your support is even more important. Today, put a dollar value on the trustworthy reporting you rely on all year long. We can't hold those in power accountable and uplift voices from the community without your partnership. Thank you.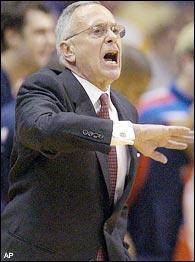 Rumors are swirling that after this season, the Lakers could hire Larry Brown as their new head coach. Brown's act has already worn thin in Detroit (wow, that was quick), as he still recovers from the emotional shock of his fans' brawl with Indiana and refuses to give Darko Mlicic playing time.LAist would be absolutely thrilled to see Brown coach the Lakers. As Los Angeles basketball fans, we've see what Brown can do. First he took he took an overachieving UCLA team to the Final Four. Then he miraculously guided the Clippers to the playoffs twice. And last June, he coached the Pistons to an improbable upset over our Lakers.
There is no coach in the NBA who is better in a 2-3 year window than Larry Brown. And that suits the Lakers just fine. In 2007, the Lakers will have cap space and could make a run at a Lebron James or Yao Ming. In the short term, they need some help, as evidenced by their "lame" loss to the Hawks last night. For some reason we see Kobe Bryant and Larry Brown just loving each other. And Brown already has a beach house in Malibu, and firm roots here.
So let's see it happen!
But if it doesn't work out, who would you like to see coach the Lakers?
Cruise off the highway and hit locally-known spots for some tasty bites.

Fentanyl and other drugs fuel record deaths among people experiencing homelessness in L.A. County. From 2019 to 2021, deaths jumped 70% to more than 2,200 in a single year.

This fungi isn't a "fun guy." Here's what to do if you spot or suspect mold in your home.

Donald Trump was a fading TV presence when the WGA strike put a dent in network schedules.

Edward Bronstein died in March 2020 while officers were forcibly taking a blood sample after his detention.

A hike can be a beautiful backdrop as you build your connection with someone.