This is an archival story that predates current editorial management.
This archival content was written, edited, and published prior to LAist's acquisition by its current owner, Southern California Public Radio ("SCPR"). Content, such as language choice and subject matter, in archival articles therefore may not align with SCPR's current editorial standards. To learn more about those standards and why we make this distinction, please click here.
Deep in the Heart of Texas...is a Murderous Mob
Before you read more...
Dear reader, we're asking you to help us keep local news available for all. Your tax-deductible financial support keeps our stories free to read, instead of hidden behind paywalls. We believe when reliable local reporting is widely available, the entire community benefits. Thank you for investing in your neighborhood.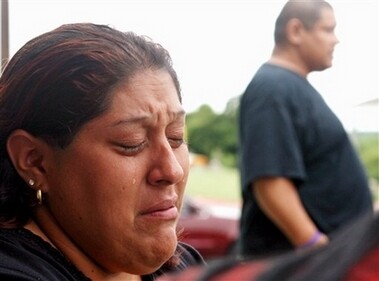 Deep in the Heart of Texas…is a murderous mob. Don't mess with Texas…because if you do, you will be beat to death with Texan fists. That's right folks. That is exactly what can happen.
According to the Associated Press, two men Victor (last name currently unknown) and David Morales, were driving in a crowded parking lot on June 19th on their way home from work when they accidentally hit a toddler with their car. Victor, the driver, immediately jumped out of the car to check on the child, who has not been seriously injured.
While Victor was checking on the toddler, a group of people came over to see what had happened and there was a violent confrontation. David Morales, the passenger, got out of the car to try to help Victor. When he did, five men in the crowd started to beat him too. The five men, using their arms and legs, beat and kicked Morales to death. Victor managed to get away.
The murder occurred in the parking lot of the apartment complex where Morales lived. Nearby, a Juneteenth festival commemorating the 1865 emancipation of those enslaved in Texas was taking place. There are a few witnesses that have said that there was a crowd of hundreds who saw the incident. But thus far, very few who saw the beating have come forward. One of the witnesses did call 9-1-1. Police arrived quickly, but Morales was already in critical condition and the five men who beat him had already fled.
David's sister Margaret Morales (pictured above) said that a little boy from the neighborhood came to her front door to tell her that her that David had been hurt in the parking lot. She rushed out to find police already there, but it took a while for emergency medical professionals to arrive. David Morales was delivered to a hospital emergency room 35 minutes after the police arrived. Morales was pronounced dead on arrival.
The AP does not explain why these five men decided to beat on two people who did the ethical thing by checking on the toddler. David Morales and Victor did not hit-and-run. Nor does AP explain why the crowd decided to beat David Morales to death. As the car's passenger, he was not operating the vehicle at the time. He was totally unresponsible for hitting the toddler. Nor does the AP explain why a toddler was running around a parking lot to begin with. They do not mention the irony of an innocent man being murdered without state authority via mob-beating, which is technically called a lynching, following the commemoration of the abolishment of enslavement in Texas.
Quite frankly, I don't know how something this atrocious and brutal can be explained. Excuse me now as I must run to the toilet to vomit. Just the thought of the murder of an innocent person by five cavalier assholes makes me feel sick.
Link to the AP story: Crowd Kills Man After Car Hits Child
And Austinist's coverage here and updated here
AP photo by Jack Plunkett