Deep in the Heart of Texas...is a Murderous Mob
Today on Giving Tuesday, LAist needs your support.
Today, your donation to LAist will be matched dollar for dollar. Your tax-deductible that gift powers our reporters and keeps us independent will be felt twice as strong today, so don't delay!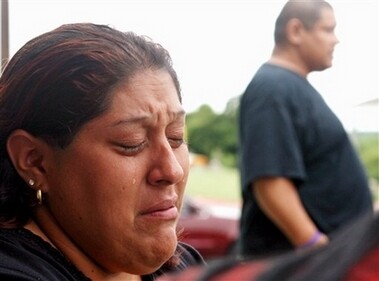 Deep in the Heart of Texas…is a murderous mob. Don't mess with Texas…because if you do, you will be beat to death with Texan fists. That's right folks. That is exactly what can happen.
According to the Associated Press, two men Victor (last name currently unknown) and David Morales, were driving in a crowded parking lot on June 19th on their way home from work when they accidentally hit a toddler with their car. Victor, the driver, immediately jumped out of the car to check on the child, who has not been seriously injured.
While Victor was checking on the toddler, a group of people came over to see what had happened and there was a violent confrontation. David Morales, the passenger, got out of the car to try to help Victor. When he did, five men in the crowd started to beat him too. The five men, using their arms and legs, beat and kicked Morales to death. Victor managed to get away.
The murder occurred in the parking lot of the apartment complex where Morales lived. Nearby, a Juneteenth festival commemorating the 1865 emancipation of those enslaved in Texas was taking place. There are a few witnesses that have said that there was a crowd of hundreds who saw the incident. But thus far, very few who saw the beating have come forward. One of the witnesses did call 9-1-1. Police arrived quickly, but Morales was already in critical condition and the five men who beat him had already fled.