Dead Woman was an 'American Idol' Contestant
LAist relies on your reader support, not paywalls.
Freely accessible local news is vital. Please power our reporters and help keep us independent with a donation today.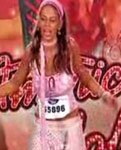 TMZ follows up on the now identified dead woman found outside "American Idol" judge Paula Abdul's Sherman Oaks home: "The woman found dead in front of Paula Abdul's house last night was a featured contestant on 'American Idol.' Paula Goodspeed appeared on Season 5 in 2006. During her audition she said she's an artist and the first pic she ever drew was of Paula Abdul. 'Idol' produced a 3 minute and 40 second featurette on Goodspeed and her passion for Paula. She did not make the cut, after Ryan Seacrest proclaimed, 'And the love affair is over.'"
Top Photo: Members of the media are shown gathered at the home of "American Idol" judge Paula Abdul by Nick Ut/AP