This is an archival story that predates current editorial management.
This archival content was written, edited, and published prior to LAist's acquisition by its current owner, Southern California Public Radio ("SCPR"). Content, such as language choice and subject matter, in archival articles therefore may not align with SCPR's current editorial standards. To learn more about those standards and why we make this distinction, please click here.
Get Involved: Wendy Greuel's Valley Crime Town Hall
Before you read more...
Dear reader, we're asking you to help us keep local news available for all. Your tax-deductible financial support keeps our stories free to read, instead of hidden behind paywalls. We believe when reliable local reporting is widely available, the entire community benefits. Thank you for investing in your neighborhood.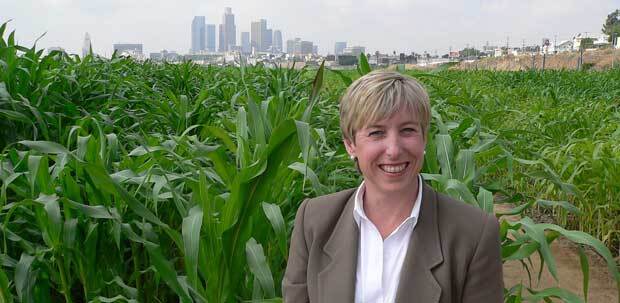 Tomorrow night, Councilwoman for District 2, Wendy Greuel, will be hosting a rather large public town hall meeting on crime in The Valley. Even LAist is showing up to represent a booth (okay, we'll actually be repping a neighborhood council). In any case, if you live in the Valley and you want the best part of LA to stay the best, then this meeting is extremely important.
Greuel, along with the LAPD will declare Council District 2 a "Graffiti-Free Zone." LAPD Deputy Chief Michel Moore will outline the "Broken Windows" theory and LAUSD District Superintendent Jim Morris will describe the actions the LAUSD is taking to improve school safety for children. Representatives from a variety of city departments, including Sanitation, Street Services and Transportation will be available to inform community members on how to efficiently access city services such as graffiti removal, abandoned car removal and illegal dumping clean up.
To prepare for the event, we asked Wendy herself a few questions...
Is there anything unique about crime in the Valley? Anything unique in community policing, deterrence and/or solutions the Valley can do that the rest of LA cannot?
Every community in Los Angeles is unique in its own right and therefore crime and the problems each community faces are unique. While gang crime went up citywide by 14% last year, it rose in the Valley by nearly 43%. I think this shows that we are dealing with gang crime on a different scale than other parts of the City.
I was born and raised in the Valley, I went to Kennedy High School. I have always felt that the Valley truly exemplified what was best about Los Angeles. The Valley has always been an area of communities working together. I believe that it's going to take that type of communal spirit that is going to be critical as we join forces to ensure that our streets are safe.
What is the Wendy Greuel approach to broken window theory when it comes to crime?
I completely support the "Broken Windows" theory of policing that Chief Bratton has brought to the LAPD. The "Broken Windows" theory is predicated on the belief that stopping violent crime begins with cracking down on smaller crimes likes vandalism. All urban blight contributes to the progressive deterioration of neighborhood safety, but no vandalism is more inherently tied to violence and gang activity than graffiti. There is no question that there is an inextricable link between the rise in graffiti in the San Fernando Valley and the increase in gang crime. That is why I am making a pledge that CD-2 is going to be a "Graffiti-Free Zone". We are going to put resources into this effort to make sure that Valley neighborhoods are safe and clean.
What is the most important thing a citizen can do to help on this issue?
Get involved. That is why the town hall that I am sponsoring is so unique. We are bringing every conceivable resource in this fight to reclaim our streets, directly to the people. We will have LAPD, LAUSD, Neighborhood Prosecutors, non-profits, neighborhood councils and countless other organizations who are committed to improving our communities at this event. We hope to empower people to get involved and stay vigilant, because together we can make our communities safe again.
The event is on Wednesday, March 21st, 2007, at 6:00 PM, at Grant High School, 13000 Oxnard St., Valley Glen, CA 91401.
Photo by Council District 13via Flickr