City's Homicide Rate in Line with Last Year
LAist relies on your reader support.
Your tax-deductible gift today powers our reporters and keeps us independent. We rely on you, our reader, not paywalls to stay funded because we believe important news and information should be freely accessible to all.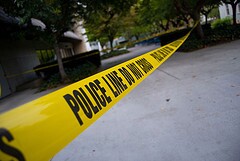 Despite a 40% spike in homicides earlier this year, a slow down in the crime has evened out the numbers. As of Monday night, there were 204 killings overall, compared to 208 this time last year, according to the LA Times who also reports that "overall, violent crime this year was down 7% as of July 12, according to the LAPD. The number of shots fired was down 28%, as was the number of victims hit by gunfire -- from 1041 to 874, a decline of 16% for the same time period."