Armed Robbery at Norm's; Staff, Drunks Panic
LAist relies on your reader support.
Your tax-deductible gift today powers our reporters and keeps us independent. We rely on you, our reader, not paywalls to stay funded because we believe important news and information should be freely accessible to all.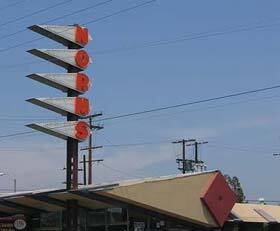 Just before 5 o'clock this morning, two gunmen, "described as white men wearing masks" held up the stalwart 24-hour eatery Norm's at 470 La Cienega Blvd.
According to cbs2.com, the robbers "got away with an undisclosed amount of cash from the register" and "reportedly chased employees through the panicked restaurant where the workers were able to lock themselves in a back room." Furthermore, following the heist, "the suspects fled in a waiting white, four-door Ford Contour last seen driving towards nearby Santa Monica Boulevard."
The report also calls Norm's a "popular" eating establishment, which would be the case if you count yourself in the 65 and over set, are three sheets to the wind, or if you write reviews for calendarlive.com, in which you may rhapsodize about this "Super fabu unspoiled L.A. Googie coffee shop institution" that's been there since 1949.
Photo by b. frahm via Flickr