CA Teen Arrested for Plans of Plane Hijack
LAist relies on your reader support.
Your tax-deductible gift today powers our reporters and keeps us independent. We rely on you, our reader, not paywalls to stay funded because we believe important news and information should be freely accessible to all.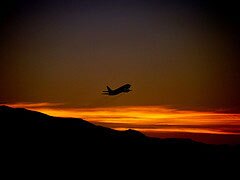 Tuesday, a 16-year-old California teenager was arrested in Nashville after a Southwest Airlines flight Los Angeles. The AP reports that "Authorities searched the teen's home in California and found a mock cockpit... The teen's parents were reportedly unaware he was traveling to Nashville." Rumors floated around the media saying the teen planned to crash the plane into a Louisiana Hannah Montana concert.
The 16-year-old was taken into custody by airport police without incident on Tuesday evening after flying from Los Angeles, California, to Nashville, Tennessee, on Southwest Airlines Flight 284. "His stated intent was to hijack the airplane and commit suicide," said George Bolds, an FBI spokesman in Memphis, Tennessee. "He did indicate he intended to die in Louisiana. It appears he had a ticket to Louisiana."

[snip]

The teen wanted to crash the plane into a Hannah Montana concert in Lafayette, Louisiana, two CNN television affiliates in Nashville, WSMV and WTVF, reported, citing unnamed sources. The concert is scheduled for Friday night at the Lafayette Cajundome. [CNN]


Authorities are dismissing "an earlier broadcast reporting that the teen planned to crash the plane into a "Hannah Montana" concert in Lafayette, La," according to the AP. It is unknown how police learned of the plans in order to stop the teenage. Handcuffs, rope and duct tape were all found in his bag.
Photo by Cubbie_n_Vegas via Flickr