This is an archival story that predates current editorial management.
This archival content was written, edited, and published prior to LAist's acquisition by its current owner, Southern California Public Radio ("SCPR"). Content, such as language choice and subject matter, in archival articles therefore may not align with SCPR's current editorial standards. To learn more about those standards and why we make this distinction, please click here.
Book Review: All Will Be Revealed
We need to hear from you.
Today during our spring member drive, put a dollar value on the trustworthy reporting you rely on all year long. The local news you read here every day is crafted for you, but right now, we need your help to keep it going. In these uncertain times, your support is even more important. We can't hold those in power accountable and uplift voices from the community without your partnership. Thank you.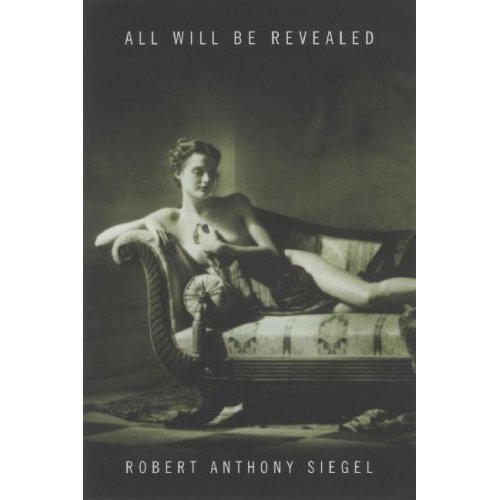 There are a lot of suckers out there for a good love story (this LAist poster included).
And essentially, that's at the heart of Robert Anthony Siegel's new book All Will be Revealed -- although its premise is a more intriguing than the boy-meets-girl, boy-loses-girl, boy-wins-girl back plot of most chick lit or Harlequin romances.
In Siegel's novel, its anti-hero, Augustus Auerbach, is a wheelchair-bound pornography mogul in 19th century New York City. His life is narrowly focused on keeping his business empire on top of its game. To Auerbach, sex has always been a commodity, and he keeps an emotional or physical distance from his "models" and other employees. His legs, stunted by a childhood illness, also don't help his self-esteem or love life – until he meets an unintended paramour, Verena Swann, a spirit medium. Yes, we're talking séances here, so you know that in deft hands these characters must be intriguing, and on that level Siegel doesn't fail. He's quite good in painting these two characters and the loneliness and emptiness that fills both their lives.
Augustus is a workaholic millionaire who's never seen wings of his own home. Verena has been in "communication" off-and-on with her famous explorer husband, who died in the North Pole three years earlier. But her powers are beginning to fail her, so when she can't channel the spirits for "weepies" – mourners who are looking to speak with their lost ones – she's pressed into making it up by her brother-in-law Leopold Swann, who's hoping to make his brother's wife his own.
One of Augustus's best models brings him to a reading. Augustus views this rare trip outside of his mansion as a mere business deal. The model will return to taking her clothes off for the camera once she finishes grieving over her dead child. But at the séance, Verena fools Augustus into "seeing" his mother, who died in a fall when he was a young boy. Verena ends up having second thoughts about the deception when finds herself drawn to this early peddler of porn.
And that chemistry runs down a two-way street. For all his work in the sex industry, Augustus has never even kissed a girl. So when he rides home from a madhouse with Verena, his bewilderment with love is touching and comical at the same time:
"...but within a few minutes she was asleep, her head against Auerbach's chest. It was an odd moment; no one had ever used him as a pillow before. He held his arm up in the air, unsure about the etiquette of the situation, whether it was permissible to drape it around her shoulder. In the meantime, there was the weight of her body on his, and the scent of her hair in his nose, and his arm beginning to ache--and so he finally placed it around her shoulder, drawing her in tight. That seemed to trigger something: his first intimation that he had lived a life of loneliness was that he did not feel lonely anymore."
The novel's denouement is a letdown, however. Siegel builds up all this tension between Auerbach, Verena and Leopold, but he doesn't let jealousy take a natural course. There's a chapter toward the end of the book that's dedicated to Leopold's training a bear to become a prognosticator on stage. (No joke.) The chapter could have been titled: "Who needs a spirit medium as a girlfriend when you can train your own pet bear?" The comparison is much too forced and Leopold's characterization is woefully two-dimensional.
Nevertheless, someone will probably snap up the movie rights to this entertaining and easy-to-read summer book. It'll make a great date movie someday. Our suggestion: "When the Porn Mogul met the Medium...."
Robert Anthony Siegel will read at Dutton's Brentwood tonight (Thursday) at 7 pm.
But Yeoh is the first to publicly identify as Asian. We take a look at Oberon's complicated path in Hollywood.

His latest solo exhibition is titled "Flutterluster," showing at Los Angeles gallery Matter Studio. It features large works that incorporate what Huss describes as a "fluttering line" that he's been playing with ever since he was a child — going on 50 years.

It's set to open by mid-to-late February.

The new Orange County Museum of Art opens its doors to the public on Oct. 8.

Cosplayers will be holding court once again and taking photos with onlookers at the con.

Littlefeather recalls an "incensed" John Wayne having to be restrained from assaulting her and being threatened with arrest if she read the long speech Brando sent with her.