Book Review: All Will Be Revealed
LAist relies on your reader support, not paywalls.
Freely accessible local news is vital. Please power our reporters and help keep us independent with a donation today.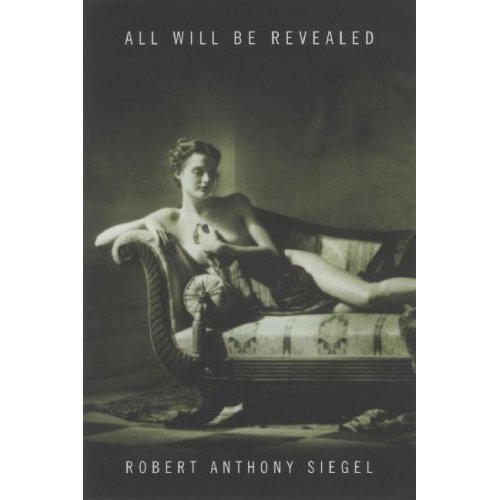 There are a lot of suckers out there for a good love story (this LAist poster included).
And essentially, that's at the heart of Robert Anthony Siegel's new book All Will be Revealed -- although its premise is a more intriguing than the boy-meets-girl, boy-loses-girl, boy-wins-girl back plot of most chick lit or Harlequin romances.
In Siegel's novel, its anti-hero, Augustus Auerbach, is a wheelchair-bound pornography mogul in 19th century New York City. His life is narrowly focused on keeping his business empire on top of its game. To Auerbach, sex has always been a commodity, and he keeps an emotional or physical distance from his "models" and other employees. His legs, stunted by a childhood illness, also don't help his self-esteem or love life – until he meets an unintended paramour, Verena Swann, a spirit medium. Yes, we're talking séances here, so you know that in deft hands these characters must be intriguing, and on that level Siegel doesn't fail. He's quite good in painting these two characters and the loneliness and emptiness that fills both their lives.
Augustus is a workaholic millionaire who's never seen wings of his own home. Verena has been in "communication" off-and-on with her famous explorer husband, who died in the North Pole three years earlier. But her powers are beginning to fail her, so when she can't channel the spirits for "weepies" – mourners who are looking to speak with their lost ones – she's pressed into making it up by her brother-in-law Leopold Swann, who's hoping to make his brother's wife his own.
One of Augustus's best models brings him to a reading. Augustus views this rare trip outside of his mansion as a mere business deal. The model will return to taking her clothes off for the camera once she finishes grieving over her dead child. But at the séance, Verena fools Augustus into "seeing" his mother, who died in a fall when he was a young boy. Verena ends up having second thoughts about the deception when finds herself drawn to this early peddler of porn.