This is an archival story that predates current editorial management.
This archival content was written, edited, and published prior to LAist's acquisition by its current owner, Southern California Public Radio ("SCPR"). Content, such as language choice and subject matter, in archival articles therefore may not align with SCPR's current editorial standards. To learn more about those standards and why we make this distinction, please click here.
Bloody And Bloodier, Dodgers And Angels Teams Mash It Out
Support your source for local news!
The local news you read here every day is crafted for you, but right now, we need your help to keep it going. In these uncertain times, your support is even more important. Today, put a dollar value on the trustworthy reporting you rely on all year long. We can't hold those in power accountable and uplift voices from the community without your partnership. Thank you.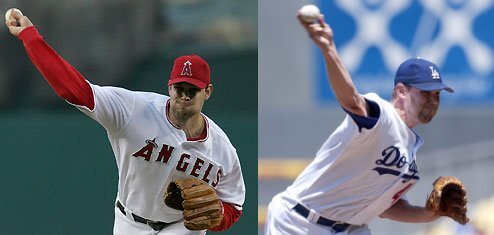 You can certainly forgive the Dodgers for losing this series; flying to Minneapolis with no scheduled travel day, they collided head-on with the hot, hot, hot Joe Mauer and two of the Twins' best starters, rookie Sandy Koufax impressionist Francisco Liriano, and Cy Young candidate Johan Santana. The discombobulated Dodgers couldn't hit their stride offensively or pitch well at any time.
Chad Billingsley, the Dodgers' promising rookie who was brought up to stabilize the fifth rotation spot, fell apart instead. He gave up six runs over five and two thirds innings in Monday's 8-2 loss while registering only a pair of strikeouts and walking seven. Derek Lowe detonated in Tuesday's 9-2 failure to the tune of nine earned runs, the worst outing of his season to date, and one of the worst of his career. Lowe, a sinkerballer who has had trouble with artificial turf throughout his career (6-13 with a 6.34 ERA lifetime), said afterwards that "I really don't think I could have pitched that bad if I told them what was coming."
On Wednesday, the Dodgers were at least able to make the game somewhat close thanks to an Olmedo Saenz bases-clearing double. Given the mismatch in pitching, however, that was at best a face-saving gesture. On a day when Ned Colletti traded away a good young catcher for a handful of magic beans quality number three pitcher southpaw of dubious merit and an aging backup catcher, Odalis Perez had hoped to make a good impression, but the only impression was being made by Twins' bats, as they smashed him up for 11 hits. In his first inning, Perez managed to retire the first two batters — and then loaded the bases in preparation for a grand slam. So it went the rest of the game, with Grady using the hook before the end of the fifth. Contrast this with Perez's 2.45 ERA out of the pen, and, well, you know how this one goes.
---
The Angels, of course, can't point to the excuse of facing a potential Hall of Famer for their lack of hitting. Their bats colder than an anvil at the bottom of Lake Michigan in January, the Halos suddenly started getting some lousy pitching performances to go along with their bad offense. On Monday, they looked as if they were about to go down meekly without scoring, when a miracle occurred 40-year-old Rockies closer Jose Mesa allowed all his inherited baserunners to score and then some; subsequently, the Angels beat the Rockies 5-4.Their luck ran out quickly. With scouts from a number of teams in attendance, Jeff Weaver self-immolated for six earned runs on nine hits on Tuesday, a game the Angels went on to lose 12-4 thanks in part to equally horrible mound performances by Kevin Gregg and the usual defensive meltdowns lately plaguing the Angels.
On Wednesday, it was Scot Shields — Scot Shields! — who chose an inopportune moment to misplay a tapper to the box; instead of catching it, he squoze the ball into the gap between short and third, thus setting the mood for an inning in which four runs scored. And, once again, the Angels fell, 6-2, to a club that only last year was one of the NL's laughingstocks. About the only good to come of the game was a 3-4 night for Vlad Guerrero, whose prior slump qualifies as one of the worst of his career.
---
The Angels and Dodgers will meet each other in Anaheim for a three-game set in which the Dodgers hope to regain their lead in the NL West, recently taken by the 41-37 Padres. The Angels, for their part, hope merely to get to .500, an increasingly difficult task as the team stumbles toward the All-Star break. Word is that the team will make a roster move or two prior to tomorrow's game. Unless it's benching Adam Kennedy in favor of Howie Kendrick and moving Jeff Weaver to the bullpen for brother Jered, it's just more deck chair movement.
Cruise off the highway and hit locally-known spots for some tasty bites.

Fentanyl and other drugs fuel record deaths among people experiencing homelessness in L.A. County. From 2019 to 2021, deaths jumped 70% to more than 2,200 in a single year.

This fungi isn't a "fun guy." Here's what to do if you spot or suspect mold in your home.

Donald Trump was a fading TV presence when the WGA strike put a dent in network schedules.

Edward Bronstein died in March 2020 while officers were forcibly taking a blood sample after his detention.

A hike can be a beautiful backdrop as you build your connection with someone.