Bloody And Bloodier, Dodgers And Angels Teams Mash It Out
LAist relies on your reader support, not paywalls.
Freely accessible local news is vital. Please power our reporters and help keep us independent with a donation today.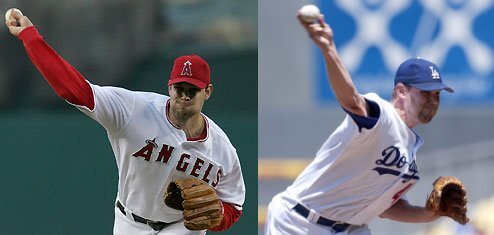 You can certainly forgive the Dodgers for losing this series; flying to Minneapolis with no scheduled travel day, they collided head-on with the hot, hot, hot Joe Mauer and two of the Twins' best starters, rookie Sandy Koufax impressionist Francisco Liriano, and Cy Young candidate Johan Santana. The discombobulated Dodgers couldn't hit their stride offensively or pitch well at any time.
Chad Billingsley, the Dodgers' promising rookie who was brought up to stabilize the fifth rotation spot, fell apart instead. He gave up six runs over five and two thirds innings in Monday's 8-2 loss while registering only a pair of strikeouts and walking seven. Derek Lowe detonated in Tuesday's 9-2 failure to the tune of nine earned runs, the worst outing of his season to date, and one of the worst of his career. Lowe, a sinkerballer who has had trouble with artificial turf throughout his career (6-13 with a 6.34 ERA lifetime), said afterwards that "I really don't think I could have pitched that bad if I told them what was coming."