LAist relies on your reader support.
Your tax-deductible gift today powers our reporters and keeps us independent. We rely on you, our reader, not paywalls to stay funded because we believe important news and information should be freely accessible to all.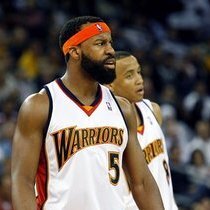 Former Golden State Warrior's guard Baron Davis is now a Clipper. According to ESPN.com, Davis has agreed verbally to a five-year $65 million deal. The Clippers are now expected to re-sign forward Elton Brand who opted out of the final year of his contract last night.
Discuss.
AP File Photo