All the WiFi & Coffee You Can Get in Downtown
Stories like these are only possible with your help!
Your donation today keeps LAist independent, ready to meet the needs of our city, and paywall free. Thank you for your partnership, we can't do this without you.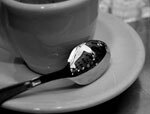 Blogdowntown has begun to profile coffeeshops that carry wireless internet in the downtown area. This is especially good for those of us who don't live downtown, but still need the occasional hook up to get some work done. Other than the obvious Starbucks option, Ed Fuentes visits Lot 44 Coffee, a secret hideaway to him, but also one of his top spots to go get some work done with a cup of joe. The WiFi is consistent and there are a handful of outlets to plug in. And the organic fair trade coffee is good too, even if a little more expensive than other shops.