This is an archival story that predates current editorial management.
This archival content was written, edited, and published prior to LAist's acquisition by its current owner, Southern California Public Radio ("SCPR"). Content, such as language choice and subject matter, in archival articles therefore may not align with SCPR's current editorial standards. To learn more about those standards and why we make this distinction, please click here.
State Gives Cash for Transit Projects
Stories like these are only possible with your help!
You have the power to keep local news strong for the coming months. Your financial support today keeps our reporters ready to meet the needs of our city. Thank you for investing in your community.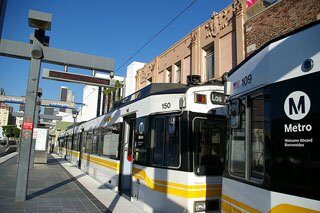 Governor Schwarzenegger announced today where some of the Proposition 1B, the $20 billion infrastructure bond approved by us voters in 2006, will go... right here in Los Angeles:
12 miles of bus lane on Wilshire Blvd. ($5 million)
Expo Line ($73.5 million unevenly split between Phase I and II)
95 new natural gas busses ($50 million)
Bus rehab ($27.5 million)
A total of 106 transit projects (.pdf) are being funded statewide at the cost of $1.9 billion, creating 7,200 jobs. Los Angeles County received the highest amount at a $171 million.
Previously on LAist
-- "19 minutes to drive just one mile of Wilshire..."
-- Westsiders Can't Handle One Busses-Only Lane
-- Traffic Freakout: Dedicated Bus Lanes on Wilshire
Photo by Fred Camino of MetroRiderLA