This is an archival story that predates current editorial management.
This archival content was written, edited, and published prior to LAist's acquisition by its current owner, Southern California Public Radio ("SCPR"). Content, such as language choice and subject matter, in archival articles therefore may not align with SCPR's current editorial standards. To learn more about those standards and why we make this distinction, please click here.
It's the Year of the Ox, What Should I Do?
Support your source for local news!
The local news you read here every day is crafted for you, but right now, we need your help to keep it going. In these uncertain times, your support is even more important. Today, put a dollar value on the trustworthy reporting you rely on all year long. We can't hold those in power accountable and uplift voices from the community without your partnership. Thank you.

Photo by Huro Kitty via the LAist Featured Photos pool on Flickr
Gung Hay Fat Choy! Happy 4707! If there was every a time we needed a "Year of the Ox" it's right now. That's because "the Ox is thought to be the sign of prosperity through fortitude and hard work," and is a sign of power and modesty. Patience, dependability, achievement through steady focus--that's what this year is all about.
Although the Year of the Ox began on Monday January 26th (some may argue it began in a philosophical sense on Tuesday January 20th--but that's another story) this weekend is when Los Angeles' Chinatown gets down to the business of ringing in the New Year.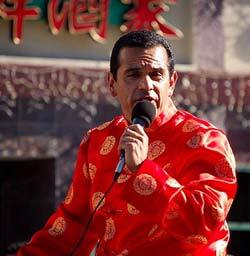 Melle Music/LAist Featured Photos
First up is the 110th Annual Golden Dragon Parade, which takes place on the streets of Chinatown from 2-5 this afternoon. There's over 100 floats, marching bands, and groups of costumed folks making their way through the vibrant neighborhood. The parade will also honor the 50th anniversary of the Broadway opening of The Flower Drum Song; Nancy Kwan, star of the film, will serve as Grand Marshal. And, yes, you'll get to see our Mayor Villaraigosa in his Chinese garb waving to the crowds, along with other local government officials and city council members, and the 2009 Miss Los Angeles Chinatown Queen, Lindsay Louie and her royal court.Taking place all day today (10-8) and tomorrow (10-5) is the Lunar New Year Festival in Chinatown. The festival is free and open to the public, and will have two entertainment stages featuring cultural performances, like the Shaolin Warriors of Chinatown in a spectacular new performance with live Chinese musicians (Saturday 1-2pm & 5-6pm, and Sunday 1-2pm and 4-5pm). See all the Year of the Ox banners created by SCI-Arc students will hang on street light poles throughout the area, enjoy food, entertainment, and shops, and enjoy one of our oldest and most colorful communities.
To learn more about LA's historic Chinatown, check out LAist's Neighborhood Project: Chinatown.
Donald Trump was a fading TV presence when the WGA strike put a dent in network schedules.

Pickets are being held outside at movie and TV studios across the city

For some critics, this feels less like a momentous departure and more like a footnote.

Disneyland's famous "Fantasmic!" show came to a sudden end when its 45-foot animatronic dragon — Maleficent — burst into flames.

Leads Ali Wong and Steven Yeun issue a joint statement along with show creator Lee Sung Jin.

Every two years, Desert X presents site-specific outdoor installations throughout the Coachella Valley. Two Los Angeles artists have new work on display.