It's the Year of the Ox, What Should I Do?
Stories like these are only possible with your help!
You have the power to keep local news strong for the coming months. Your financial support today keeps our reporters ready to meet the needs of our city. Thank you for investing in your community.

Photo by Huro Kitty via the LAist Featured Photos pool on Flickr
Gung Hay Fat Choy! Happy 4707! If there was every a time we needed a "Year of the Ox" it's right now. That's because "the Ox is thought to be the sign of prosperity through fortitude and hard work," and is a sign of power and modesty. Patience, dependability, achievement through steady focus--that's what this year is all about.
Although the Year of the Ox began on Monday January 26th (some may argue it began in a philosophical sense on Tuesday January 20th--but that's another story) this weekend is when Los Angeles' Chinatown gets down to the business of ringing in the New Year.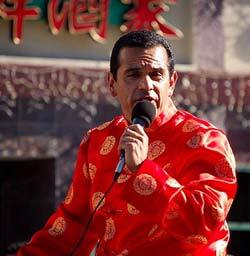 Melle Music/LAist Featured Photos
First up is the 110th Annual Golden Dragon Parade, which takes place on the streets of Chinatown from 2-5 this afternoon. There's over 100 floats, marching bands, and groups of costumed folks making their way through the vibrant neighborhood. The parade will also honor the 50th anniversary of the Broadway opening of The Flower Drum Song; Nancy Kwan, star of the film, will serve as Grand Marshal. And, yes, you'll get to see our Mayor Villaraigosa in his Chinese garb waving to the crowds, along with other local government officials and city council members, and the 2009 Miss Los Angeles Chinatown Queen, Lindsay Louie and her royal court.Taking place all day today (10-8) and tomorrow (10-5) is the Lunar New Year Festival in Chinatown. The festival is free and open to the public, and will have two entertainment stages featuring cultural performances, like the Shaolin Warriors of Chinatown in a spectacular new performance with live Chinese musicians (Saturday 1-2pm & 5-6pm, and Sunday 1-2pm and 4-5pm). See all the Year of the Ox banners created by SCI-Arc students will hang on street light poles throughout the area, enjoy food, entertainment, and shops, and enjoy one of our oldest and most colorful communities.
To learn more about LA's historic Chinatown, check out LAist's Neighborhood Project: Chinatown.