This is an archival story that predates current editorial management.
This archival content was written, edited, and published prior to LAist's acquisition by its current owner, Southern California Public Radio ("SCPR"). Content, such as language choice and subject matter, in archival articles therefore may not align with SCPR's current editorial standards. To learn more about those standards and why we make this distinction, please click here.
Get Out: Easter Bunnies, LA Artists, Butterflies, Take a Hike
We need to hear from you.
Today, put a dollar value on the trustworthy reporting you rely on all year long. The local news you read here every day is crafted for you, but right now, we need your help to keep it going. In these uncertain times, your support is even more important. We can't hold those in power accountable and uplift voices from the community without your partnership. Thank you.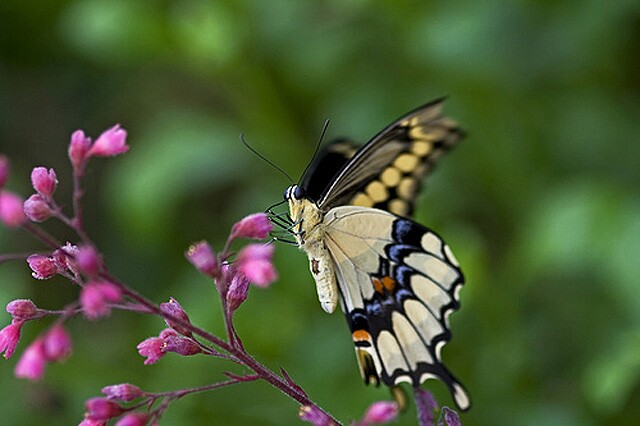 Photo by Synapped via the LAist Featured Photos pool on Flickr
Easter Miscellany
Chances are, if you were planning on doing something for Easter, your plans are nailed down already, underway, done, or family-only. Hey, it happens. Unfortunately, because it's Easter, there's a lot fewer events taking place today besides the usual mix of museum exhibits, bands playing, and plays running. If you're looking to get in on something hippity-hoppity, may we suggest the LA Zoo's Big Bunny's Spring Fling, grabbing at bite at Royal/T and seeing what they have up their sleeves for Easter, pigging out at the Biltmore (Easter Brunch 11:30-2:30), or taking a stroll around Descanso Gardens. Of course, you can always wait outside your favorite grocery or drug store for the Peeps and Cadbury Eggs to get marked down to 50% off and celebrate that way...
LA Artists, LA as Art
Two exhibits running right now offer a cumulative 20 Los Angeles artists and their work. "Nine Lives: Visionary Artists from L.A." at the Hammer is the fifth in the museum's biannual biannual invitational exhibition series highlighting work created in greater Los Angeles. See over 125 pieces in a variety of mediums by 9 artists covering 4 generations. Add 11 more to your LA visionaries roster by heading over to see the inaugural exhibition of the Annenberg Space for Photography, "L8S ANG3LES: 11 LA photographers" which features the diverse work of 8 world-renowned photographers as well as LA Times' staff photographers (8 + 3 = 11, see?). See LA through the lenses of Julius Shulman, Tim Street-Porter, Greg Gorman, Carolyn Cole, John Baldessari, and more.
Opening Day at the Pavilion of Wings
The Natural History Museum's Pavilion of Wings takes flight today and launches their spring-summer beloved attraction. Stroll through the specially-landscaped area to interact with dozens of species of butterflies. And while you're there, check out their Sustainable Sundays event--this time it's "Waste Not, Want Not."
Take a Hike! (or Take a Walk!)
No, seriously, why not take one? It's not too hot, we're not due for any rain, and you don't need anyone's schedule but your own to work with. You can head out to any of our local parks and mountains and hit the trails and paths, like those found at Franklin Canyon, (find the center of Los Angeles!), Inspiration Point, Wildwood Canyon, King Gillette Ranch, Limekiln Canyon, or Towsley Canyon. Check out the Wildflowers at LA State Historic Park, or at other area spots. And if you like to stick (mostly) to concrete, you can try the Hollywoodland Staircases walk (to name just one of the many, many, many awesome staircase walks our city has to offer).
But Yeoh is the first to publicly identify as Asian. We take a look at Oberon's complicated path in Hollywood.

His latest solo exhibition is titled "Flutterluster," showing at Los Angeles gallery Matter Studio. It features large works that incorporate what Huss describes as a "fluttering line" that he's been playing with ever since he was a child — going on 50 years.

It's set to open by mid-to-late February.

The new Orange County Museum of Art opens its doors to the public on Oct. 8.

Cosplayers will be holding court once again and taking photos with onlookers at the con.

Littlefeather recalls an "incensed" John Wayne having to be restrained from assaulting her and being threatened with arrest if she read the long speech Brando sent with her.